Winner: PearlPoint Cancer Support – "Celebrate Minnie Pearl and Her Legacy" Campaign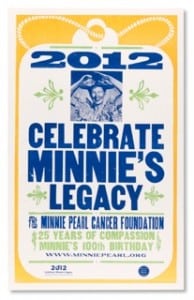 The Minnie Pearl Cancer Foundation (MPCF), which offers support, education, nutritional consultations and one-on-one guidance to adults facing cancer, had much to celebrate in 2012. In addition to marking its 25th anniversary, MPCF celebrated the 100th birthday of the late Minnie Pearl, the iconic Grand Ole Opry comedian who shared her legacy of compassion with the organization. Thus, the "Celebrate Minnie Pearl and Her Legacy" was an awareness campaign built around these two milestones in order to increase knowledge and support of MPCF across the country.
The 2012 Hats Across the Row (HATR) event in April featured a parade of antique cars, special celebrity guests, a marching band, Celebrate Minnie's Legacy signage up and down Nashville's Music Row, and a culminating party where guests wore Minnie Pearl hats. August marked a Minnie Pearl Homecoming Celebration, honoring past volunteers, board members, supporters and donors for an evening of recognition.
Digital/social initiatives included a "Where in the World is Minnie Pearl" Facebook contest; photo sharing on a Pinterest board; a fun "Howdee" viral video featuring many country artists that was shared on social media; and memories of Pearl from Dolly Parton, Reba, Rascal Flatts and more. Traditional targeted press outreach included local and national healthcare and entertainment media outlets.
Awareness for MPCF was raised across multiple platforms, including: 1,800 new fans on Facebook in 2012; 517 new Twitter followers in 2012; more than 40,000 views on YouTube (exceeding goal of 15,000); and a dramatic increase in client referrals. —Scott Van Camp
Honorable Mentions:
• Burson-Marsteller - ICANN's global public education campaign for new generic Top-Level Domains
• National Association of Insurance Commissioners - Consumers: "Know Your Stuff" Home Inventory App Program