Winner: Jumpstart – Jumpstart's Read for the Record. One Day. To Jumpstart a Child's Future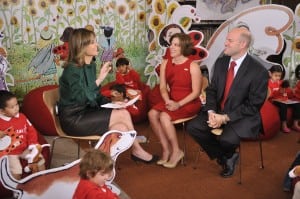 Jumpstart's Read for the Record, presented in partnership with the Pearson Foundation, brings together millions of Americans to celebrate literacy by breaking the world record for reading the same book on the same day. On October 4, 2012, individuals across the country were encouraged to read the children's book "Ladybug Girl and the Bug Squad," by David Soman and Jacky Davis, in support of Jumpstart's mission: to work toward the day every child in America enters school prepared to succeed.
The campaign drove public awareness of and participation in Jumpstart's Read for the Record campaign by sparking a national conversation on the importance of high-quality preschool experiences and the reality of America's achievement gap. Through email communications, social media conversations, a text message campaign and a full-featured microsite, Jumpstart prompted a groundswell of excitement surrounding the campaign. The campaign microsite (www.jstart.org/readfortherecord) served as a one-stop source for registration, general information, event updates, news stories, and campaign highlights.
In a post-campaign survey, a pool of 1,235 respondents, 93.9% reported overall satisfaction with the campaign. Additionally, 80% of the respondents indicated general awareness of Jumpstart's mission and 76% primarily participated in the campaign because they feel strongly about early education, validating Jumpstart's effective and deliberate outreach efforts. —Bill Miltenberg
Honorable Mentions:
• Crawford Strategy - Mission Hospital COPA Campaign
• Nyhus Communications - Washington United for Marriage Launch
• Solomon McCown & Company - NARAL Pro-Choice Massachusetts: Elevating Women's Issues in a Pivotal Massachusetts Senate Race