Jonny Thaw has been on both sides of the communications fence. In a former life, Thaw was a well-respected tech reporter for publications like Business 2.0, Red Herring and later Bloomberg News before he moved over to the messaging side two years ago.
He now is manager of technology and engineering communications at Facebook, one of the cornerstone tech companies that dot the Bay Area's famous environ of Silicon Valley.
There's a certain caché that envelops the Valley: Entrepreneurs from around the globe come to realize their ideas and dreams, and to work in an environment that oozes innovation. These aspirations are no different for communications professionals who come to Silicon Valley looking to be on the cutting edge of their profession.
That's why all eyes and ears were on Thaw, Karen Wickre, editorial director at Twitter and Demetra Kavadeles, global consumer public relations manager at Skype, in a session titled "PR Inside a Technology Leader" at the recent PRSA International Conference in San Francisco. In his opening remarks, Thaw didn't say anything to let down the rapt audience, admitting that it's never a dull moment at the now-public company. "There have been many ups and downs," he told the packed room. But you could tell from his enthusiasm for the Facebook brand that he wouldn't have it any other way.
TECH CHALLENGES
Thaw landed at Facebook when the company had 1,500 people (currently 3,500), and the communications staff was small. It has since been built out to a team of 40, divided into corporate, international, product and policy/privacy groups. There's also a sizable public policy team working the Beltway.
As the head of technology and engineering communications, Thaw says he faces a couple of challenges, both related to the nature of tech. In the non-tech world, products are normally launched with a big splash in one fell swoop. At Facebook, however, most products are rolled out slowly, marked by extensive beta testing.
The ultra-competitive tech landscape also presents a recruiting challenge, says Thaw. "The hunt for talent is fierce," he says. Thus, Thaw and his team work hard to reach the engineering audience—encouraging them to post on the Facebook Engineering page (www.facebook.com/Engineering, 700,000 likes, see image) and pitching their stories to the media.
STORIED TWEETS
While Facebook's Thaw made the jump from journalist to PR pro, Karen Wickre, editorial director at Twitter, has stayed with the professional confines of editor-writer. Starting as a content strategist at Google in 2002, she recommended to leadership that Google start a blog, which became a model for the industry.
After nine years at Google, Wickre took her content expertise to another Valley giant—Twitter. As a writer, she's always thinking of stories to tell, and does so through a variety of platforms: the @twitterstories page (see image); a Pinterest page; a Facebook fan page (nearly 10 million likes) and numerous other blogs and corporate Twitter accounts. A team of three helps with the content, complementing the 15-person communications staff—mostly in media relations.
"There is so much material that a company can publish other than product specs," says Wickre. "It just takes some thinking and attention over time." Of course, being able to choose stories among Twitter's 140 million users does have its advantages.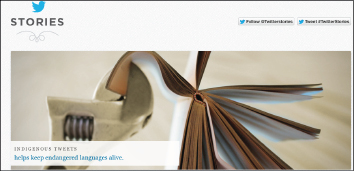 Two Silicon Valley titans, Facebook and Twitter, use their own platforms to create awareness and conversation. Facebook's Engineering page (top) has more than 700,000 likes, while @TwitterStories tells the inspiring tales of some of the platform's 140 million users.
TRADITIONAL OUTREACH
Meanwhile, Demetra Airaudi's tech communications career demonstrates the industry's potential for big change. Joining Skype a year-and-a-half ago as global PR manager for consumers, she was on her honeymoon when she found out the global communication service was purchased for $8.5 billion by Microsoft.
Before that, Airaudi spent seven years promoting LG mobile devices—ironic because Skype is heavily into optimizing its services for Android and Apple mobile operating systems.
Skype's PR outreach has a traditional media relations side, but there's also a focus on bloggers, monitoring what they are writing about. "That's where a lot of our consumer campaign ideas come from—user-generated content," says Airaudi.
Airaudi warns not to disregard the traditional forms of PR. Skype "consumerizes" its product launches and works with partners like Samsung and Logitech to get the word out that Skype can be used on a variety of devices.
TIPS FROM TECH
Thaw, Wickre and Airaudi all offered advice that all PR pros can take to heart, including these nuggets:
• Let your employees tell their stories: Wickre says a Twitter engineer might talk about their favorite apps, or how to get away from the screen. "We encourage this. These aren't stories that reporters might write, but they may spark ideas," she says.
• Continually get in front of media and find creative and unique ways to talk to them. "I constantly think of what consumers want to know about Skype in using it every day," says Airaudi.
• Segment your audiences. "There was a time when we just had one Facebook page, with every announcement up there," says Thaw. "We realized that we weren't serving each audience well."
• Use an editorial eye. Recognize good stories, and make sure you cross-promote, cross-tweet and pitch those stories to the media, says Wickre.
We've often heard PR pros marvel at the top tech companies and their seemingly effortless ability to draw massive attention and coverage. Who needs PR, anyway? Biz Stone, co-founder of Twitter, told the press at the PRSA event that in Twitter's early days, he didn't see much need for formal PR. "I did the PR myself, until one day a reporter e-mailed me and wrote, 'Look, my job is to cover Twitter. If I can't get a comment on a story, I can't cover your company.'" Thus, a PR team was born.
Which just goes to show—whether it's tech, CPG or nonprofit—the PR pillar of establishing relationships is what counts the most. PRN
CONTACT:
Jonny Thaw, @jonnyjt; Karen Wickre, @kvox; Demetra Kavadeles @metersd.