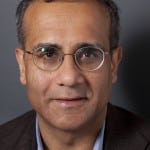 Rishad Tobaccowala saw the future of digital while many communicators were still making the transition from AOL to their Yahoo email accounts—let alone gmail. This pioneer in digital marketing was on the vanguard of the first wave of interactive and digital agencies, and continues to peer into the future as chief strategy and innovation officer for VivaKi.
Tobaccowala's digital marketing perspective has given him a keen sense of just how ideally suited PR practitioners are for social media and, in particular, using social platforms to tell stories that can connect with people on an emotional level.
Tobaccowala will tackle these themes in his keynote address at PR News' Big 3 Digital PR Conference, which will be held April 18 at the Grand Hyatt in New York City. He spoke with PR News about the natural advantages PR pros have in the digital realm.
PR News: What opportunities does digital storytelling hold for PR practitioners?
Rishad Tobaccowala: The digital canvas allows for far deeper, agile and scalable storytelling. It is deeper because one has audio, video, graphics, words, links to Application Protocol Interfaces (like linking to data sorts and historical information). The digital canvas is also participative (though social media), mobile and not limited by length.
It is more agile because one can listen and respond in real time. It is more scalable because it allows for direct connection with people but also allows stories to be targeted to influencers that may pick up the story in offline media.
PR News: What advantages do PR practitioners have compared to, say, marketers and advertisers, in the digital realm?
Tobaccowala: PR practitioners have always been more adept at responding in real time to events and in being able to manage multiple constituencies.
In addition, unlike most other disciplines that have honed their storytelling skills for pre-formed containers—the 30-second TV commercial, the 60-second radio spot—PR storytelling has been more free-form, which is what social media is. Thirdly, PR focuses on ensuring authenticity of message since for years the pitch was to highly skeptical gatekeepers such as reporters. Finally, PR folks are used to getting earned media.
PR News: What's the biggest mistake that brand communicators make on digital channels?
Tobaccowala: That they see it as a separate channel or as a media channel. Digital encompasses more than media and incorporates customer relationship management and the ability to transact. Just as important, we are living in a world of digital leakage where offline and online blend and merge, especially given mobility. People watch TV and tweet. They are at an event and post on Instagram.
PR News: Which social media platform holds the greatest potential for storytelling?
Tobaccowala: Each one is particularly good for one thing. Twitter is best to reach large audiences and react in real time; Google+ is best to leverage video stories and Facebook to maintain an ongoing conversation and two-way interaction. Tumblr, in many ways, is the best canvas to tell a story.
Register now for PR News' April 18 Big 3 Digital PR Conference in NYC and catch Rishad Tobaccowala's keynote presentation and learn from social media executives at organizations such as The Nature Conservancy, Gansevoort Hotel Group and Capital One.
Follow Steve Goldstein: @SGoldsteinAI