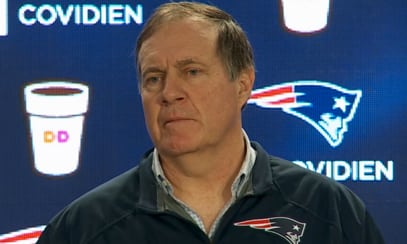 Try as they might, the New England Patriots could not make 'Deflategate,' the still-developing story about the team using deflated footballs during Sunday's AFC Championship Game, go away.
On Thursday morning Patriots head coach Bill Belichick, who is notorious for being difficult with the media, held a press conference to answer questions about the growing scandal. Belichick said he was "shocked" when he heard of the deflated balls, adding that he had no prior knowledge of (or explanation for) how 11 out of 12 of the Patriots' game balls from Sunday turned out to be drastically under-inflated.
"I've told you all I know from my perspective on the subject," Belichick said on Thursday, before repeating, "I've told you everything I know," several times in what can be described as an uncomfortable exchange with reporters at the conclusion of the press conference.
The NFL is still investigating the situation, and a report (and, potentially, a punishment) is expected soon. The Patriots are no strangers to this type of controversy—in 2007, Belichick was fined $500,000 and the team was docked a first-round draft pick after staff members were caught videotaping the New York Jets' defensive play signals.
To be sure, the Patriots are trying to play by the rules of communications, getting ahead of the story by voluntarily calling a press conference and using it as an opportunity for their head coach to exculpate himself. Likewise, quarterback Tom Brady is scheduled to address the media this afternoon.
Still, Belichick's presser added nothing to the story, acting essentially as a drawn-out "no comment" statement, which could backfire on the team. As the spin cycle churns and the world continues to lampoon the Patriots on Twitter, in the press and elsewhere, watching how the Patriots handle full-on damage control mode should provide professional communicators with some key crisis communications lessons.
Follow Brian Greene on Twitter: @bw_greene