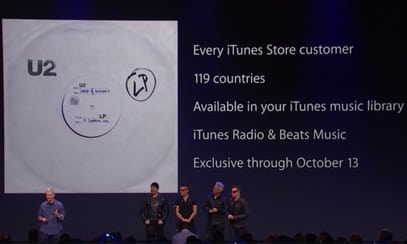 If you have iPhone or iPad, open your Music app, sort by artists, and scroll down to U2. Depending on your iCloud settings, U2's newest album, Songs of Innocence, may have been uploaded to your device without you knowing about it (or wanting it.)
The free album giveaway is part of Apple's latest onslaught of new products, which were announced at an event at the Flint Center in Cupertino, California on Tuesday. After Apple CEO Tim Cook introduced two new iPhones and the Apple Watch, he was joined by U2 to close the event with music, after which he announced that the band's new album had been pushed to over 500 million users via the cloud.
According to TechCrunch, once the album is in your Music app and iTunes account, it cannot be removed. But what if you don't like U2? You could hardly be blamed for having your own musical tastes. And after this awkward pointer-finger-touch between Bono and Tim Cook at the event on Tuesday, even passionate U2 fans may have reason to reconsider their affiliation.
Apparently, Apple did not consider whether or not users would want the new U2 album uploaded to their devices without consent, an aggressive if not creepy move that has left some users upset, calling it an invasion of digital space.
For communicators, even those that don't enjoy the incredibly extensive reach that Apple has, the lesson here is that if you're going to give something away for free, make sure that people actually want it.
Follow Brian Greene on Twitter: @bw_greene