When the Office of the Director of National Intelligence in August rolled out a Tumblr blog about the work of the nation's intelligence community, it was just the latest in a growing list of U.S. government blogs on Tumblr. The feds now have more than 30 Tumblr blogs, including blogs for the Defense Department and the Internal Revenue Service, according to The New York Times.
The government's use of Tumblr to help communicate its messages underscores the growing appeal of the blogging platform, which Yahoo acquired earlier this year for $1.1 billion.
All the rage in the early 2000s, blogs seemed to lose their luster by the middle of the decade, eclipsed by shiny new toys like Facebook, Twitter and other social channels.
Yet Tumblr, which debuted in 2007, is increasingly said in the same breath as "Twitter" and "Facebook" when it comes to how to PR and marketing executives reach their audiences and cultivate new ones.
The blogging platform, which in early September had 135.5 million blogs and 60.4 billion posts, lends itself to "snackable" (and shareable)content such as infographics, memes, aphorisms and memorable quotes.
It has the added benefit of spreading content that has a better shelf life compared to, say, Twitter or Facebook, which are designed to distribute content in short bursts.
"What's unique to Tumblr is our posts have greater longevity than other social networks, so content that we posted two months ago is still being shared," said Elizabeth Crosta, VP of public affairs for American Express Corp.'s consumer products division.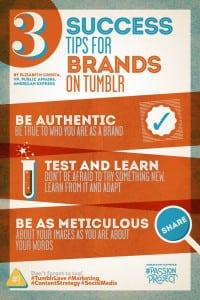 LESS STRUCTURED
American Express in June launched a Tumblr blog in concert with its #PassionProject, which features how-to advice, personal profiles and contests to inspire consumers to pursue the projects considered most important to their lives.
The blog also includes information from Amex's LifeTwist Study examining how people define success.
"Tumblr is about people following their interest graph, as opposed to their social graph," Crosta said. "It is an easy-to-use and flexible platform, and allows us to show our brand personality to new people."
Crostra said that Amex posts content on its Tumble blog about one to three times a day. To measure the blog, Amex tracks the "Notes" metric, or heart icon displayed on Tumblr accounts, as well as the number of reblogs of its content. She would not provide the blog's total number of followers. "What I love about it is we're able to communicate with people in way that's less structured," Crostra said.
Amex is part of an impressive stable of brands that have started a Tumblr blog, including AT&T, Holiday Inn, IBM Research and MasterCard. Right now just 31 of the top 100 brands have accounts on Tumblr, according to research company Simply Measured. But that number is surely to grow.
'FLEX YOUR VOICE'
"We're recommending it to many of our clients," said Emily Buchanan, senior principal and chair of social engagement at marketing agency Carmichael Lynch Spong, whose clients range from H&R Block to Merrick Pet Care. "You can really flex your voice on a blog because you're reaching a lot of different stakeholders versus some other [social] channels where you want to be native to that particular platform."
Earlier this year Carmichael Lynch Spong created a Tumblr blog on behalf of Trane, producing content focusing on the heating and air conditioning company's sponsorship of this year's Race Across America, a transcontinental bike race.
"People are remembering why they liked blogs in the first place," Buchanan said. "Brands have a lot more control of the content and see it as a great repository for content that's already been created."
Tumblr is also an increasing part of the conversation with clients at content marketing company McMurry/TMG, said Andrew Hanelly, senior VP of strategy.
"Justifying Tumblr for PR is in the same position [now]Twitter was three years ago," he said. "What we've learned from Tumblr is that the currency of online content has changed. You don't need to pull everything into a [Tumblr] post but rather curate content and add to it in a way that provides context and shapes the content."
He added: "This is where a lot of people are, so you can be brave and join now or be a little bit regretful when you're jumping on the bandwagon when everybody joins three years from now." PRN
CONTACT:
Emily Buchanan, Emily.buchanan@cylynch.com; Elizabeth Crosta, elizabeth.crosta@aexp.com; Andrew Hanelly, andrew.hanelly@mcmurrytmg.com.
Take a Ride on Tumblr?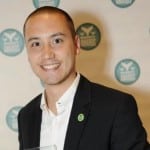 PR News asked Chris Lee, Tumblr Knowledge Manager at Edelman Digital, for his take on how PR pros can leverage the social media platform.
Best for: Visual storytelling. Striking images and animated GIFs. Lifestyle, fashion, meme-focused, comedy, pop culture related content. Platform-wise, it's an easy-to-manage platform that favors simplicity over complex features. The best content will rise to the top.
Not good for: Traditional blog, text-based content, long form prose or video.
Best time of day to use: Its most active on the weekend and in the evening, as those are the times when the typical user is on the platform. Around 10:00 p. m. on Wednesday garners the highest amount of notes/interactions for the week and 4:00 p.m. on Sunday is when the most original posts are uploaded.
Worst time of day to use: Generally, the lowest amount of interaction happens in the early morning during the business week.
Catering to: Brands with a bank of compelling visual content that tells a relevant story and brands that engage a curator on their behalf who is an expert in a specific sector (fashion, ifestyle, music, etc.). Additionally, 70% of all posts on Tumblr are reblogs, so in order to support the brand's original content it is important to share other relevant posts within the Tumblr community.*
Potential return: Enables brand stories to shine on a media platform appealing to an audience interested in consuming great content. It also allows brands to be more creative in their approach on delivering their message/brand story directly to consumers. From development of the actual Tumblr page to the way content is presented in the stream, the possibilities of creativity are limitless.
*Based on a 2012 study by Union Metrics that analyzed 6 billion Tumblr activities.
This article appeared in the September 9 issue of PR News. Subscribe to PR News today to receive weekly comprehensive coverage of the most fundamental PR topics from visual storytelling to crisis management to media training.