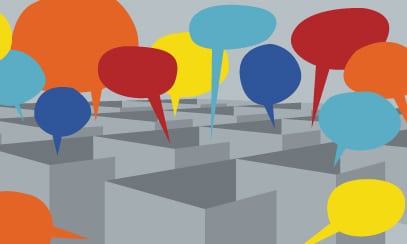 Joining a new company is hard enough. When you're also in your first management position as a fresh-out-of-college millennial, there might be a little extra trepidation when getting started.
As a millennial, there will be times when your suggestions aren't taken seriously and when references or jokes are lost on you. It comes with the territory. But millenials also possess distinct advantages in the workplace—specifically, a different viewpoint and a great level of comfort using new technologies and mediums.
How do you conquer the task of getting through to employees who have been with the company longer than you've been alive?
Amanda Davis, communications manager in IT operations at Universal Music Group and a contributor to PR News' Book of Employee Communications Strategies and Tactics Vol. 5, shares some dos and don'ts for communicating with colleagues who belong to older generations:
Do:
Check your attitude at the door. Make sure you communicate in a positive and professional tone.
Communicate your ideas with supporting facts. Your colleagues will be more likely to value your input when you share the knowledge behind it, especially if it's going to be a new challenge for them.
Investigate corporate culture. Find out how employees are already communicating with each other and use this as a base to start voicing your thoughts.
Don't:
Act like you know everything. You have great new ideas and views that you're eager to share, but you can still learn a lot from your co-workers.
Let yourself be millennial-shamed. You have tons to offer your company, so use your age as an ally. Communicate new trends and explain their value to your team.
Forget in-person engagement. Your more experienced counterparts may be hiding behind emails. Try setting up an in-person session or video call for your next big meeting.
Follow Universal Music Group on Twitter: @UMG
Follow Brian Greene on Twitter: @bw_greene