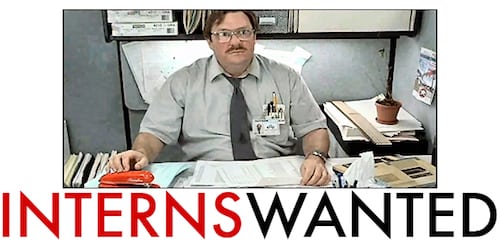 It's that time of year again. Summer is on the horizon, and for college students and recent graduates, summer is internship season. Anyone who's been through the gauntlet knows the world of interns is a markedly strange one. Youngsters usually have the clichéd idea that they'll be grabbing coffee and doing menial tasks, all the while gaining an acute understanding of what the bottom of the totem pole looks like.
I may have just used the term "youngsters" as if I were some relic left over from the Bronze Age, but the reality is I was an intern here at PR News a few years ago. I came on for a summer and after my internship ended I wound up working in various capacities, which all led to my current role on the editorial team.
When I started with PR News, I didn't think that in a few years I'd be working here full time, but luck happened to be on my side. Unfortunately the reality is that sometimes you get the full-time offer and sometimes you don't, but either way internships aren't about endgames. The ambiguity around the question of whether or not you'll get the job isn't really all that unfortunate anyway. It's great to get the offer, but what's really important is making the most out of your time spent interning.
For those out there who've already locked down their summer internships, or even if you're still looking or considering making the jump, here are a few things I learned from my internship with PR News.
If you think you'll only be making coffee and being bored, think again
This has a lot to do with where you choose to intern, so put some real effort into learning about the organization. If you have an interview, ask them what the interns usually do at the company. The best places put their interns to work. And I don't say that lightly. You'll be included on a number of projects, so get ready to immerse yourself in whatever the organization is working on when you start. Somebody always needs a helping hand, and your co-workers are going to ask every chance they get.
Speak up and speak often
I know it can be kind of daunting to be the greenest person in the room. Don't let your inexperience or age keep your voice out of the conversation. Remember that you were brought on for a reason. If you have an idea, share it. Even interns are members of the team; make sure you act like one.
Think on your feet and make a few friends
Take on assignments that may be outside your comfort zone. Find work that you know you'll struggle with. Learning on the job is very different from learning in a classroom, but the lack of theory and hypothetical situations will help your skills grow exponentially. You may find that you learned more in a summer than you did in a whole school year. But in your quest for skill and experience, don't forget to make some friends along the way. Ask for help and build relationships while you intern. Even if you don't get the full-time offer, you never know what those relationships could lead to down the road.
Here are some more resources for the budding PR pros out there looking to maximize their internship prospects.
And for anyone still looking for the perfect internship, check out PR News' Career Center for available internships located all around the country.
Follow Mark: @MarkRenfree