Consumers dial back the amount of time spent on the telecom companies' social channels, primarily due to a drop in Facebook interactions.
Telecom companies are some of the biggest spenders in paid media. It's nearly impossible to watch TV for even a few minutes and not be inundated with ads from telecom companies plugging their latest smartphone plans (that's if you don't live in a TiVo universe).
Yet the sector, which also pays close attention to its social channels, actually experienced a significant decline in those platforms last year.
Overall, social media engagement in the telecom industry declined by an average 46 percent in 2014, compared with 2013. Primarily this was due to a 50 percent dip in Facebook interactions, according to an exclusive study conducted for PR News by social media analytics company Shareablee. Is this a harbinger for other sectors? We shall see.
Facebook still accounts for slightly more than 90 percent of social engagement among the telecom companies, while other social platforms are grabbing more share. For instance, Twitter and Instagram engagement has grown by 164 percent and 99 percent, respectively, according to Shareablee. T-Mobile, which earned the number one spot in social engagement, has strong links throughout the social media field. The company increased its Instagram postings by 93 percent in 2014; that's on top of capturing the most actions for any telecom brand across Facebook and Twitter.
What's T-Mobile's social media recipe?
Some of its most popular posts in 2014 featured the promotion of sweepstakes, contests, new phone arrivals and mobile plans that are part of the brand's "Uncarrier" campaign, according to Tania Yuki, CEO of Sharablee.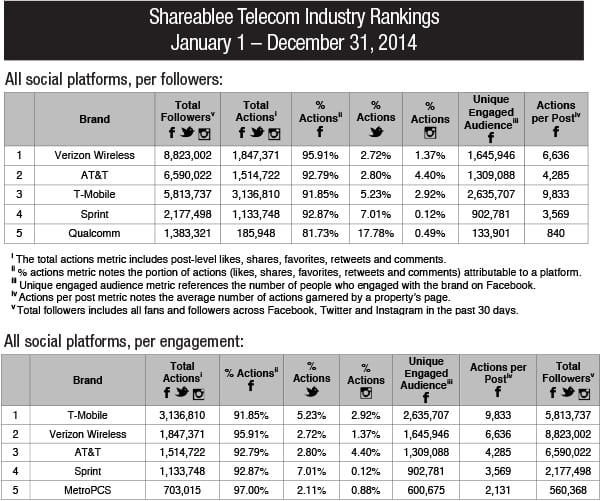 This article originally appeared in the January 19, 2015 issue of PR News. Read more subscriber-only content by becoming a PR News subscriber today.