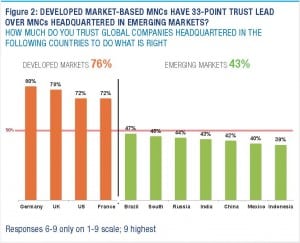 ▶ Oh Ye, of Little (Public Relations) Faith: Just 32% of business executives believe their organizations possess the right strategy to achieve outlined goals, according to a recent survey released by Harvard Business Publishing. The study, which took the pulse of more than 800 executives and senior-level managers from major organizations, leaves a lot to be desired when it comes to confidence levels within these companies.
Respondents expressed a lack of confidence not only in their organization, but in leadership, too. For instance, 31% of the respondents said that leaders within their organization lack the skills necessary to cope with the current business environment.
The study also found that:
▶ Nearly half of the respondents (43%) said that the most significant goal for leadership development is to drive transformation.
▶ A majority of the respondents (80%) said middle management developing change management skills is crucial to improving the enterprise.
▶ A majority of respondents (76%) believe that communication skills are a necessary attribute for middle managers.
Source: Harvard Business Publishing
▶ Net Revenue Growing for PR Agencies: PR agencies have grown revenue by an aggregate of 8.2% in 10 North American regions this year, compared with 2012, per StevenGouldPincus ' recently released annual report. While revenue growth is increasing nicely, operating profits are still playing catch-up, the report said.
The study looked at 218 agencies across 10 North American regions (excluding Edelman).
Here are some key stats from the report:
▶ Average annual net revenues totaled $12,467,000 for all firms.
▶ The largest revenue growth (13.1%) was experienced by agencies that generate between $10-$25 million in revenues. Conversely, agencies that earn more than $25 million annually saw the slowest growth, at 4.1%
▶ Agencies in the Southwest experienced the largest growth in revenue at 17.4%, and not far behind the Southeast, at 16.8%.
▶ The 52 New York Metro agencies included in the study enjoyed the largest operating profit margin, with an average of 22.3%. The smallest margin, 13.3%, fell to the 18 Northern California agencies who participated in the report.
Source: StevensGouldPincus
This article appeared in the September 23 issue of PR News. Subscribe to PR News today to receive weekly comprehensive coverage of the most fundamental PR topics from visual storytelling to crisis management to media training.