Ad Close: March 28
Materials Due: March 31
View Event Program Sample from the Digital PR Awards
CSR Awards Finalists
PR News Event Program Advertising Options
Half-Page Ad
-Bleed size: 7.25" x 5.25"
-Trim size: 7" x 5"
-Live area: 6.75" x 4.75"
Total Price: $495
Full-Page Ad
-Bleed size: 7.25" x 10.25"
-Trim size: 7" x 10"
-Live area: 6.75" x 9.75"
Total Price: $995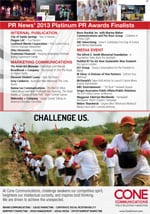 Celebrate the best in PR and congratulate the PR professionals who have made extraordinary contributions to the  CSR arena. PR News' CSR Awards finalists have the right combination of dedication, passion, creativity and proven success. The CSR Awards Luncheon is the perfect place for you to be side-to-side with the best. Promote your service and brands to hundreds of CSR Awards Luncheon attendees and the 290,000 PR News email subscribers or congratulate your peers.
Reach more than 200,000 communications professionals!
Your message will reach hundreds of thousands of communicators through an integrated package that includes print and online exposure. This four-color event program will be distributed to over 300 top PR and communications professionals at PR News' CSR Awards Luncheon on April 7 in Washington, D.C. and will be referenced by executives and their teams year round. Your web advertisement will be placed in an email that announces the CSR Awards winners, reaching more than 290,000 communications professionals. In addition, your web advertisement will be included on the CSR Awards Winners web page.
Reserve your space today by contacting Senior Vice President & Group Publisher Diane Schwartz at 212-621-4964; dschwartz@accessintel.com.