PR Insiders »More Water Coolers »
Twitter shares soared to $49 on Monday, up 9% to their highest level since the social blogging network went public in early November. The spike in share price comes just a few days after Twitter rolled out a new ad program. The move gives PR pros yet another excuse to condition themselves to paid media programs. | MORE »

It's one thing when brands try and align their message with "Hallmark" holidays such as Valentine's Day or April Fool's Day. But it's another thing when brands try and leverage solemn anniversaries, such as last weekend's 72nd anniversary of Pearl Harbor, as Cambell's soup brand SpagettiOs has now learned the hard way. | MORE »

What happens if spam filters catch your press release? The answer is simple: nothing. | MORE »
Features
It's year-end and time to think about what will make this next chapter different than the last. Growth goes hand in hand with evolution, and standing still is rarely an option. | MORE »
Buckle up. Change in the PR field has been accelerating at a rapid clip in the last several years and 2014 will be no exception. As PR moves closer and closer to the core of strategic marketing, C-level managers increasingly expect PR pros to demonstrate their value and align communications with the organization's overall goals and objectives, financial and otherwise. | MORE »
Clients come and go, but properly analyzing a loss can lead to reassessment, adjustment and more business. | MORE »
Authenticity is all the rage these days. According to the social media gurus, you have to be authentic if you want to have followers and likes. The crisis communications experts will tell you that authenticity is key to recovery in a crisis. But there are times when authenticity just doesn't work. | MORE »
The babies just keep on coming. More than a few states in America are experiencing baby booms. | MORE »
PR News Blog

 Johnson & Johnson demonstrates how brands can tell their CSR stories in compelling and effective ways.  
Deals of the Week
Receive $150 off PR News' Dec. 12 Media Relations Conference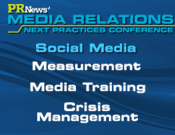 Attend PR News' Media Relations Next Practices Conference and get the latest best practices on building relationships with journalists and bloggers, finding and engaging with the right reporters and influencers on social networks and communicating with the media in a crisis while never losing sight of your core messages.
Use code "150off" at checkout.
Get $50 off PR News' PR Measurement Guidebook

In this PR News guidebook you'll find the freshest and smartest ideas for measuring the impact of public relations and tying your efforts to key business objectives and performance indicators, from awareness to sentiment and perception, from influence and advocacy to action and participation.
Use code "MEASUREDEAL" at checkout.
Save $100 on a PR News Subscription
Let PR News become your weekly, go-to resource for the latest PR trends, case studies and tip sheets. Topics covered include visual storytelling, social media, measurement, crisis management and media relations.
Use code "SUBDEAL" at checkout.