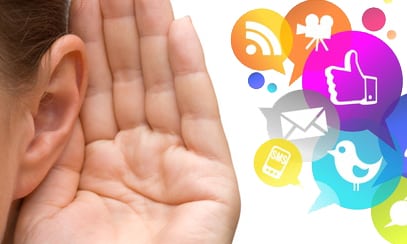 If social media is a way to converse with your audience, then your strategy is only as good as the way it engages your audience. Carefully planned, creative, great content that misses the mark with a particular audience segment really isn't great at all. Listening has to come before content creation.
Every good conversation starts with listening. The ability to listen and monitor your social channels enables you to gauge what content is working and what needs adjustment, improving workflow along the way.
But what are you listening for? It's easy to say that listening is important—identifying the objectives for that listening are a bit more difficult.
This morning at PR News' Social Media Summit at the Grand Hyatt in New York City, Lauren Friedman, head of social enablement at Adobe, shared 7 different objectives for listening to your audience on social media:
Radar: Early warning system on product quality or service issues
Learn: Learn keywords customers use to fine-tune search engine optimization (SEO) and search engine marketing (SEM)
Track: Track conversations through the lifecycle of a campaign
Identify: Identify sites, key opinion formers and peer influencers for engagement
Support: Provide information or answer questions where consumers are online, such as forums
Ideation: Attain ideas to innovate products, services and marketing
Connect: Connect with industry influencers and build relationships
Follow Brian Greene: @bwilliamgreene