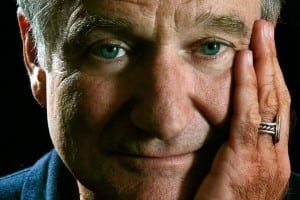 He was wonderfully manic. He had an incredibly diverse work portfolio and never bucked a challenge. He was accessible, open and charitable. Robin Williams, who died Monday of an apparent suicide, leaves an incredible legacy and a good deal of inspiration for professional communicators.
Williams, who was 63, had been battling severe depression as of late, his media representative Mara Buxbaum told CNN.
President Obama noted Williams' death: "Robin Williams was an airman, a doctor, a genie, a nanny, a president, a professor, a bangarang Peter Pan, and everything in between. But he was one of a kind. He arrived in our lives as an alien—but he ended up touching every element of the human spirit."
Williams could certainly teach a thing or two to PR pros, first and foremost the beauty of versatility. Whether he was playing an alien (Mork & Mindy), a psychologist (Good Will Hunting, for which he won an Oscar) or a hobo (Waiting for Godot), Williams was able to tackle TV, movies and stage.
He got his start, of course, as a stand-up comedian. Watch some YouTube clips and it makes you appreciate why you keep hearing about the necessity of disrupting your brand before it gets disrupted. Williams was an original disruptor, frequently reinventing himself during his set and creating new and thrilling ways to grab his audience.
Before transparency became a catch-all phrase, Williams was notoriously open about his addictions to cocaine and alcohol. He talked about difficult subjects with candor and grace, something PR managers should strive for when they're discussing sensitive issues on behalf of a client or the company.
Williams was also known for his charity work at organizations such as Comic Relief, the Christopher & Dana Reeve Foundation and St. Jude Children's Research Hospital, among others.
He had had a delightful flair for language and some penetrating insight into human nature, which, despite all our gadgets, is roughly half the battle in PR.
With that in mind, here are some memorable quotes from Williams. His will be sorely missed.
"You're only given one little spark of madness. You mustn't lose it."
"No matter what people tell you, words and ideas can change the world."
"Reality: What a concept!"
"If you can find comedy that is personal, it will resonate more with the audience."
"I love kids, but they are a tough audience."
"What's right is what's left if you do everything else wrong."
"The idea of having a steady job is appealing."
Follow Matthew Schwartz on Twitter: @mpsjourno1