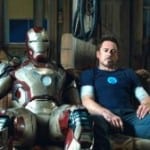 In 'Iron Man 3,' there's a scene featuring a reporter shoving his iphone in Tony Stark's face asking him to make a public statement to his enemies. Stark stares into the iphone, makes his superhero threat, then throws the reporter's phone into oblivion. The press just can't catch a break these days. Like many CEOs, Stark could use some media training.
In the spirit of heralding the start of summer blockbusters and because this blog can't really be a movie review, I give you seven practical communications lessons from 'Iron Man 3':
Keep your sense of humor. If Tony Stark can get kicked, smashed and thrown out of airplanes and still have a sense of humor about it, surely you can handle a disappointment at the office.
In a press conference, do not give out the home address of your CEO. Repeat, keep executives' home addresses confidential.
Look for answers in less obvious places. Clues are everywhere – check the shadows, look around you, ask questions. You'll eventually find what you're looking for.
It's hard to get close to someone if you're wearing armor. Shed the pretenses, be yourself.
Don't discount the people you meet at parties, on elevators and places in between: they may come back to haunt you, or help you.
Stay until the end: anyone who has watched a Marvel superhero movie knows to be on the lookout for the Stan Lee cameo and to stay until after the credits, when there's a short reel featuring another Marvel superhero and a forthcoming movie. It's the treat you get for surviving all the credits. (By the way, check out the incredible overhead on this movie.)
Test your piece of work in other markets: Even before hitting U.S. theaters a few days ago, 'Iron Man' bagged more than $500 million at the box office overseas. Success begets more success. If you know you'll get a great reception from other audiences, start there to increase buzz and confirm the epic quality of your work.
Kids are cute and lighten the mood when you're trying to beat the competition. Feature them in your next campaign.