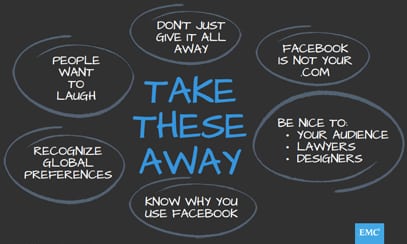 The importance of a good Facebook strategy is hard to overstate. After all, it's by far the most popular social network, with more than one billion active monthly users worldwide. But users can be prickly about how brands interact with them on Facebook, and they're likely to regard you with disdain if they feel like you're invading their social space with blatant advertisements.
Creating content for your brand that users will actually want to see on Facebook therefore remains a primary challenge for PR pros. At PR News' Social Media Conference at the Grand Hyatt in New York City on Thursday, Thom Lytle, director of social business and community engagement at EMC, shared 6 tips for crafting content that will "pop" on your audiences' News Feeds:
People like to laugh. On Facebook, humor is the best way to gain positive sentiment for your brand.
Don't just give it all away. Tease your content. Give your audience a reason to come back to your page for more information.
Facebook is not your .com. Feel free to do things you aren't able to do on your regular website.
Make friends internally with lawyers and designers. When you need their help because of a dispute or a new layout change, you'll be glad you did.
Know why you use Facebook. Don't just use it because you have to.
Recognize global preferences. People interact with Facebook differently throughout the world. Create country-specific Facebook pages to address these issues.
Follow Thom Lytle on Twitter: @ThomLytle
Follow Brian Greene on Twitter: @bw_greene