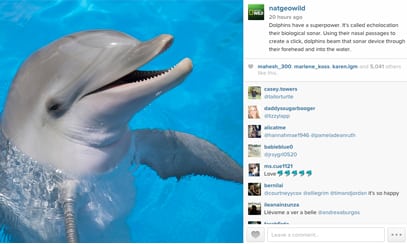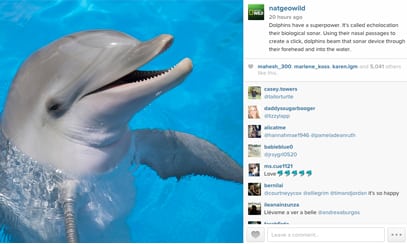 More than 75 million people check their Instagram accounts everyday, and more than 40% of them are between the ages of 16-24. As Instagram's numbers have grown, so has the presence of brands looking to connect with consumers on the platform. Appreciating the value of Instagram's user base is easy. Creating an account that is authentic, relevant and engaging—that's a little harder.
Coming up with fresh content that engages your audience on a daily basis can be overwhelming. Brands should seriously consider creating regular features to provide a framework to work within.
Here are a few ideas to get you started, courtesy of Kristin Montalbano, director of digital communications for National Geographic Channel and Nat Geo WILD:
Go behind the scenes. Behind-the-scenes shots can give followers an inside look at your brand that they can't get anywhere else, providing more reason to engage with you on Instagram and humanizing your brand in the process. Consider questions you might have for your favorite brands. What is it like working for x? What are the offices of x like? How does x get made? For example, can your product development team share a sketch or schematic of a product in progress to give followers an inside look at the process? Can your creative team share a behind-the-camera shot from a promo shoot? Can your office manager snap a photo of the annual employee volunteer event? Can you get a shot of an exec's office space or feature employees through video pieces?
Organize a takeover. Offer your users a different perspective on your brand by inviting a key spokesperson to take over your account. For @NatGeoChannel, it may be Ginnifer Goodwin sharing her favorite photos from the set of "Killing Kennedy," where she played Jackie Kennedy. For @NatGeoWild, it's fish biologist Zeb Hogan showcasing the most badass fish from his travels filming the series "Monster Fish." For your brand, perhaps it's the president of the company or a spokesperson showcasing a day in the life. Regardless, don't hand over your brand's account information—photos and captions should be submitted to you for posting.
Spotlight your followers. It isn't called social media for nothing. Invite users to share photos through a dedicated hashtag and repost your favorites. You get some great content while your fans receive recognition and visibility. Or take it a step further and kick off a contest or photo challenge. Both are great ways of soliciting photos and rewarding users. Go beyond the photo. Chances are you have old content that could use a refresh. Consider overlaying text to create memes or quotes that represent your brand. Get your coworker who's always doodling during meetings to create something a little more on-brand. Get the amateur videographer in your office to play with stop-motion or Hyperlapse a promo shoot or event.
Get into the holiday spirit. For Halloween 2014, @NatGeoWILD invited followers to share their wildest animal costumes with the hashtag #WildHalloween. For Thanksgiving, it asked talent to share videos of what they're most thankful for. Holidays are always a great time to do something fun, and they are easy to plan ahead for.
Partner up. Consider ways of engaging like-minded influencers. Work for a cosmetics company? Don't forget to send product to your favorite beauty-focused Instagrammers. Launching a product line? Invite a group of Instagrammers to the factory to document how it's made. Premiering a new series? Organize a set visit with Instagrammers.
Follow Kristin Montalbano on Twitter: @KMontalbano
Follow Brian Greene on Twitter: @bw_greene