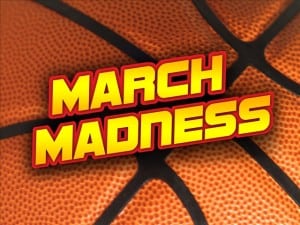 From the Oval Office to your local watering hole, the upcoming NCAA Men's Basketball Tournament is dominating conversations and creating buzz. So how can your brand catch some of the halo effect, and be included in the conversation surrounding March Madness?  Here are some notable efforts we've seen:
1. Be a Sponsor: Buffalo Wild Wings
If your brand has the wherewithal to sponsor the tournament you can use the words "March Madness" in conjunction with promotions. Buffalo Wilds Wings, which bills itself as "The Official Hangout for NCAA Sports," is offering six trips to the 2015 tourney finals and thousands of dollars in gift cards. Ways to win include weekly trivia challenges, or just by checking into a Buffalo Wild Wings and tweeting about the challenge. (If your brand is not a sponsor, check out these legal guidelines for promotions related to high-profile sports events like the NCAA Tournament and the Super Bowl.)
2. Offer a Ridiculously Unattainable Prize Package: Quicken Loans

Quicken Loans and Berkshire Hathaway, the holding company run by Warren Buffett, announced they are teaming up to award $1 billion to the person who chooses a perfect NCAA March Madness tournament bracket. Nice move by Quicken to gain some media attention, and not much of a gamble as the chances of someone predicting all 63 games is around 1 in 9.2 quintillion. Which we're not even sure is a real number, but we're told it has 18 zeroes.
3. Combine and Conquer: Pet Plan Insurance

Capitalizing on both the buzz of the tournament and the ubiquitous social media postings about adopting shelter animals, Pet Plan Insurance will pit 16 cute cats and dogs in a competition for a $5,000 donation to their respective shelters. In the "Tournament of Tails: Sweet 16 Shelter Pet Challenge," all voting will be done in Facebook comments on the Pet Plan Insurance page.
4. The Nerdiest March Madness Tournament: Hasbro

Playing straight to its nerdy by nature Scrabble fans, Hasbro is holding a March Madness-style contest to choose a new Scrabble word. On April 2, Hasbro will select 16 nominated words for fans to vote on through a bracket-style competition on the Hasbro Game Night Facebook page until only one word remains. (Full disclosure: I already nominated my word.)
5. March Machine Learning Mania: Kaggle
According to BusinessWeek, Kaggle, a major player in the Big Data world, is hosting a competition sponsored by Intel to see if statistical techniques can improve the ability to forecast NCAA tournament winners. The company is offering a $15,000 grand prize to the winning data team.
It's not too late to catch some of the halo effect, and latch onto the tournament buzz. You and your team can brainstorm an idea and run a promotion on your social media platforms today.