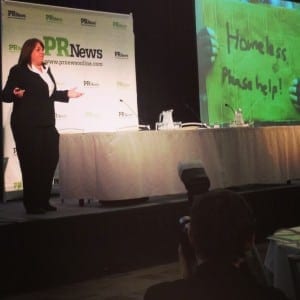 Some 200 communications pros gathered in San Francisco today for the PR News Digital PR Summit, featuring a full day of digital/social tips and tricks from experts across industries. Here is a sampling of their sage advice.
Focus 90% of your website efforts on the top 10% of your offerings.
Amy Africa, CEO of Eight By Eight
Ways to promote content on Facebook: Create a teaser video; invite celebrity/influencer participation; and try Facebook advertising.
Krisleigh Hoermann, Social Media Strategist, American Heart Association
What constitutes a good story? People, tension, action, resolution and meaning (some kind of context).
David Patton, VP and editor in chief, Waggoner Edstrom Worldwide
To keep Facebook followers engaged: Recognize and reward the most engaged users; use visual content via platforms like Pinterest and Instagram.
Kati Dahm, project specialist and community manager, Cisco
On measurement: Track each content offer with unique ID. At SalesForce, anything that gets pushed out via social can be tracked back to the pipeline using campaign IDs via bit.ly.
Jennifer Burnham, director of social and content strategy, Salesforce.com