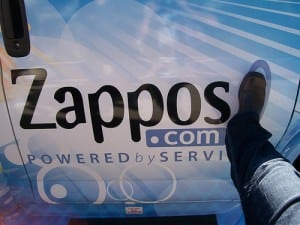 Employee relations is one of the most important elements of any effective communications strategy. In fact, many companies, like Starbucks, put employees first, even ahead of customers, reasoning that great—and happy—employees will improve the customer experience.
To be sure, if companies don't get internal buy-in, they're much less likely to succeed externally.
With that in mind, we were struck by a recent report on how Zappos, the online shoe and apparel retailer, builds an empowering corporate culture.
The article cites an astonishingly low 5% employee turnover rate at the company, and 75% of customers ordering products more than once. Clearly, the company is doing something right.
The article cites David "Doc" Vik, a self-described "Culture King," who works with Zappos and other companies on how to build motivational corporate cultures.
Vik describes five key components to help motivate your employees:
1. Define your vision: Be clear on what your company is doing now and what it wants to accomplish in the future. And be careful not to paint the company into a corner about its mission. Learn to be flexible in that regard.
2. Define your purpose: Don't just state your business mission for the sake of doing so; drill down to define what your reason for being is and how your products and/or services help the larger community.
3. Redefine your business model: Top-down thinking is going the way of the Edsel. Be open (and innovative) on new ways on how to bring your products and services to market.
4. What's your wow factor: It's another way of asking, What's the 'Aha' moment for people when they think about your corporate culture? What makes your business unique? What will motivate employee to stick around and keep them from bailing?
5. Stick to your values: Vision and purpose will get you a Metro card for the subway sans any corporate values. Communicate your priorities and be clear to what's important to the company and its employees.
What do you think? Care to add any components?
Follow Matthew Schwartz: @mpsjourno1