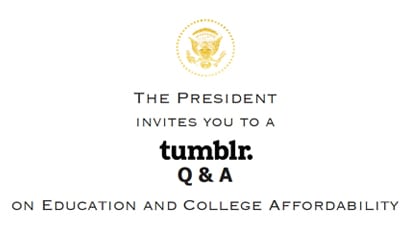 On Tuesday afternoon, President Barack Obama will host a live Q&A session on Tumblr to discuss education and student debt. Obama's team is encouraging users to ask questions on ObamaIRL.tumblr.com (for the uninitiated, IRL stands for "in real life"), and the president will begin to answer a selection of them at 4 p.m. EST.
The interactive Q&A comes one day after Obama's announcement of the expansion of the Pay As You Earn repayment program, an initiative that caps monthly student loan payments a 10% of at borrower's discretionary income. White House officials say that over 40% of Tumblr's audience are between the ages of 18-34, making it a great tool to reach the demographic most burdened by student debt.
The White House, of course, isn't the only organization looking to use Tumblr to get its message out to this age group. Still, Tumblr is a difficult medium to break into, as it has its own distinctive style and set of user interactions.
Serena Ehrlich, director, social & evolving media at Business Wire, shared some tips on how to approach Tumblr at PR News' Social Media Summit last week:
Speak the language: Get on Tumblr and actually use it. Notice what kinds of posts do well, and get used to the nuance of the network. Obama's team has clearly done their research, as they've posted animated .gifs and memes in an attempt to fit in with Tumblr's culture. Have your content—especially images, which are popular on the platform—prepared in advanced to post.
Use hashtags: Tumblr users track topics using hashtags. Without them, your content will be harder to find and even harder to track.
Use the Q&A box: Just as President Obama is doing on Tuesday, use Tumblr's built-in Q&A feature to solicit questions from your audience. Then, answer and engage.
Reblog other users' content: Tumblr users have two main, native options for interacting with content they come across on the social network: like and reblog. Likes are good, but reblogs are better—when you reblog, you share another users' content on your Tumblr page, validating that user along the way.
Get on at the right time: The best time to post on Tumblr is between 5 p.m. and 1 a.m. EST.
Follow Serena Ehrlich: @serena
Follow Brian Greene: @bwilliamgreene