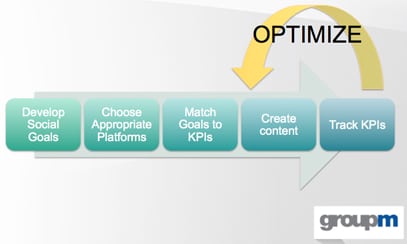 Senior leaders and clients want to see a return on their public relations investments. This is particularly true with their social media spending, as its remains difficult to quantify exactly how an engaging social presence benefits the bottom line.
At PR News' Newbie Boot Camp for Digital Communicators at the National Press Club in Washington, D.C. on Wednesday, Dani Klein, director of social media strategy and insights at GroupM, discussed the major steps to aligning  social media to business outcomes:
Develop goals. If the business goals are sales or leads, then social media goals must be set up to match sales or leads. Identifying which step in the communications or marketing funnel social is meant to augment will help achieve a proper set of goals to help your business.
Determine the appropriate platform for your brand and goals. Not all social platforms are relevant for each brand and not all will meet your marketing goals. Know what each platform is good at. For instance, Facebook is the best platform for hyper-targeting content to specific users while Twitter is great for customer service and special offers and Instagram excels at creating desire for brand and products.
Match your goals to key performance indicators (KPIs). Identify the performance metrics, or KPIs, that will show the success or failure of reaching your goals.
Create content to match your KPIs. You know what your goals are and how those goals will be measured. Now create content that will succeed against those measurements.
Track KPIs. Use social listening software such as Brandwatch and sysomos and platform analytics tools such as unmetric and Simply Measured to get your results.
Optimize strategy and content based on data. This is a feedback loop. Figure out what works and what doesn't, and then adjust your strategy accordingly.
Follow Dani Klein on Twitter: @YeahThatsKosher
Follow Brian Greene on Twitter: @bw_greene