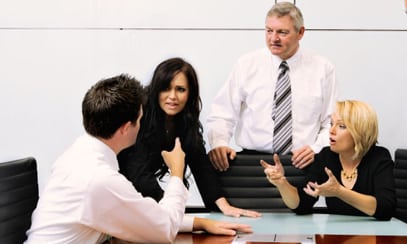 Workplace issues are especially vulnerable to an "out of sight, out of mind" mentality. Because job losses, immigration reform, benefits overhaul and the like are ongoing, constantly evolving issues, neither the news media nor the affected companies and organizations may see these matters for what they really are: long-simmering crises that can erupt at any moment.
Ultimately, workplace crisis communications can be successfully handled in the same way other crises are managed: with a strategic framework, careful pre-planning and consistent, coordinated messaging. But for these to come together, understanding workplace issues as potential crises simmering just beneath the surface of public awareness is the critical first step in preparing for the worst while hoping for the best.
Whether an organization is confronting a difficult contract negotiation, planning a large-scale cutback in staff and managerial positions, or revamping its benefits programs, here are critical steps to take in advance to ensure successful message management, courtesy of Paul Bernish, president and CEO of Bernish Communications, LLC and contributor to PR News' Crisis Communications Guidebook Vol. 7:
Communications pre-planning. At a time when news, rumor and falsehood spread 24/7, many organizations surprisingly don't have crisis plans in place. A first step in rectifying this weak point is a thorough internal assessment of likely crisis hot points. These reviews must be legitimate and candid, and the endorsement of the CEO is critical.
Contingency statement preparation. Once the internal assessment is completed, organizations should create, analyze and address a range of potential crisis scenarios with carefully crafted contingency messaging. If a difficult contract negotiation is on the horizon, contingency planning around common themes or messages is a must—preferably well in advance to ensure that everyone with a role to play in implementation is onboard. If a company plans to move production offshore, communications planning will help ensure consistent messaging of the rationale. The old adage, "Hope for the best, but plan for the worst" should be every organization's crisis management mantra.
Stakeholder relations. Key audiences such as vendors, community leaders, legislators and others are often overlooked in crisis planning. They liked to be "clued in" on the latest developments and often can be relied upon to carry management's key messages to their circles of contacts. Their influence can be amplified even more to the extent that these stakeholders make positive comments on social media sites.
Maintaining open lines of communication with civic and government officials is of particular importance in this area. Public officials are often asked for their opinions on issues affecting major employers in their locale—if they don't know or understand the issues, then their public comments can be detrimental to message discipline and the firm's reputation.
Employee trust. When a crisis happens, unaffected employees often are an organization's most creditable source of information—as long as they are in the loop. It is imperative that all employees (worldwide, if applicable) receive regular, useful information on what's happening and why. Leaving them out in the cold can engender resentment and estrangement—or, worse, a critical, negative comment that could go viral and cause immense harm.
Sincere concern. Nothing will help defuse a crisis more quickly than a tone of sincere concern by those making difficult workplace decisions. If a manufacturer is closing a plant or cutting back on health care benefits, top executives must acknowledge the impacts on families, households and the broader community. It never helps to stonewall. Empathy and sincere concern cost nothing, but they win sympathy and support.
To learn more about building a crisis management dream team, join PR News for the Crisis Management Boot Camp, taking place on Sept. 15 in New York City.
Follow Brian Greene on Twitter: @bw_greene