It's no secret that PR is one of the few industries populated by more women than men. According to the Institute of Public Relations, the latest the ratio is 60:40.
With that in mind, here are some words of wisdom from five powerful (and extremely accomplished) women to inspire you to seize the day: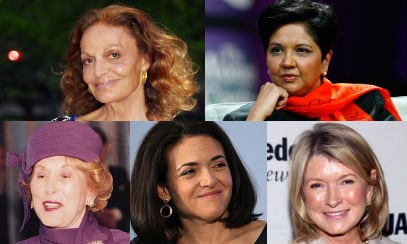 "I didn't always know what I wanted to do, but I knew the kind of woman I wanted to be."
—Diane von Fürstenberg, Founder, Diane von Fürstenberg
"My new motto is: When you're through changing, you're through."
—Martha Stewart, Founder, Martha Stewart Living Omnimedia
"I never dreamed about success. I worked for it."
—Estée Lauder, Co-founder, Estée Lauder Companies
"An important attribute of success is to be yourself. Never hide what makes you, you."
—Indra K. Nooyi, CEO, PepsiCo.
"No one gets to the top, if they sit on the sidelines, or if they don't believe in themselves."
—Sheryl Sandberg, COO, Facebook
Follow Lucia Davis: @LKCDavis