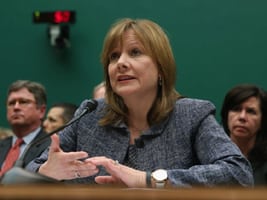 General Motors CEO Mary Barra's appearance before a Congressional committee Tuesday is just the latest development in the growing scandal regarding the automaker's faulty safety protocols. At least 13 deaths have been attributed to ignition switch malfunctions in some vehicles, and it now seems that GM hid the issue for years despite growing evidence of a potentially deadly problem.
Since taking the helm in January, Barra has been in perpetual crisis mode. She faces consumer backlash, angry stockholders and now the full weight of the federal government. What can she do to make things right?
Here are some key steps that every manager must take in order to mitigate the damage a crisis can inflict on a brand, courtesy of Mark Grimm, head of Mark Grimm Communications.
Show genuine empathy for those harmed. Barra has hired attorney Kenneth Feinberg, who helped get payments to victims of 9/11 and the 2010 BP oil spill, to examine restitution options for GM accident victims.
Act with reason, not emotion. Passions can be easily ignited, particularly in a room full of lawmakers and TV cameras, but Barra kept her cool even when grilled repeatedly by committee members.
Find out all the facts. Barra is at a disadvantage because she has yet to provide concrete answers as to why it took GM nearly a decade to address the problem. However, one of her first actions as CEO was to institute a full internal review of the company, which is ongoing.
Get ahead of the story. In an internal video to GM employees in mid-March, Barra explained what the company is doing to fix its problems. This video allowed Barra the chance to advance the company's message while also putting a public face to GM.
Things for GM are likely to get worse before they get better. But Barra's actions provide a few lessons on what a manager can do to lessen the damage a crisis can do to a brand.
Learn more about handling crisis situations by attending PR News' April 11 webinar, Your Crisis Management Plan: From Development to Execution.

Follow Richard Brownell: @RickBrownell