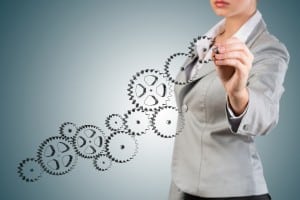 Content marketing. Brand journalism. Branded content. Call it what you will, communicators are increasingly on the hook to produce editorial content that can help tell their brand/organization's story.
We're reluctant to call 2015 the "Year of Content Marketing"—a lot of these programs are still in the nascent stage—but there's little doubt that creating compelling, non-salesy content is going to take up a growing amount of PR pros' time next year, as more and more PR departments and agencies adopt a newsroom mentality.
Half the battle in creating compelling content is populating it with interesting characters who can tell your story. The era of simply having the CEO tell your story from on high is long gone. Ditto for corporate spokespeople. These days, PR pros have to stretch out and reach for a diverse set of people who can give their stories a new and interesting spin.
With that in mind, here is some help with recruiting the right people to help tell you story, compliments of Bridget Nelson Monroe, director of digital and social media for Bellmont Partners.
The person/people who conceptualized the product, service or new feature. In some cases, this might be the founder of the company. But in other cases, it might be a team of people. Maybe it's even an entry-level employee who pitched a lofty idea. Perhaps the idea came from a completely unexpected source. Was there someone with a need who inspired the company to develop a solution?
The person/people who helped take the idea from concept to finished product. Identify how the product or service offering came to be and you'll have countless people to interview. From the designer who created the initial renderings of the product to the engineer who oversaw the development process to the person in the factory who ensures the product gets out the door, everyone has a story.
The experts. Every company has them. Again, it might be the founder or another high-level player. But it could also be the person who's pushing 40 years with the company who has insight and stories from the front line like no else. Or maybe it's new hires who were brought in because of specialized skill sets.
The customers. Who is your product or service helping? Why did they seek out this product? What difference does it make in their lives? Look for the enthusiastic regulars on your brand's social media or talk to the sales or customer service department to find those happy, loyal customers.
To learn more about content marketing trends, order a copy of PR News' Book of Content Marketing Strategies & Tactics.
Follow Matthew Schwartz on Twitter: @mpsjourno1