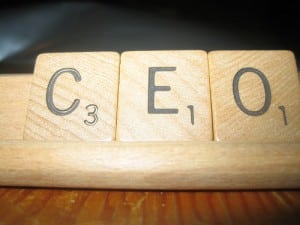 There have been several CEO-related stories in the last few days. There was the buzz surrounding the feature story on Yahoo CEO Marissa Mayer in the September issue of Vogue, accompanied by a two-page photo spread of Mayer decked out on a chaise lounge in a blue Michael Kors dress.
(The piece in Vogue came on the heels of a comScore report showing that Yahoo was number one in Web traffic in July, beating archrival Google.)
The Vogue feature—celebrating Mayer's efforts to turn around Yahoo after the company spent the last several years in the doldrums—is the kind of love bomb for a CEO that would have any PR department passing around the noisemakers.
But around the same time, another CEO, Microsoft's Steve Ballmer, announced that he'll retire in the next 12 months. This sent Microsoft stock soaring, set off speculation on who will succeed Ballmer and trigged a series of stories on all the game changers that Ballmer missed during his tenure.
Then, on Saturday New York State said it was suing real estate tycoon Donald Trump for $40 million, saying that Trump helped run a deceptive Trump University that promised to make students rich but was instead just expensive and useless seminars. Trump called the lawsuit, "incompetent," according to Politico.
Each CEO story, of course, requires a unique response by the respective PR teams. Whatever the case, in order for PR execs to act effectively on behalf of their CEOs they first need be on solid ground with the boss.
Roy Vaughn, director of communications at BlueCross BlueShield of Tennessee, provides four tips on how to bond with the C-suite in an article in PR News' recently published Employee Communications Guidebook.
1. Demonstrate a curiosity about the business. This makes the statement that you're passionate about the business, and not just your function.
2. Show composure in difficult situations. "It's easy for CEOs to get feedback that may sound alarming or perhaps shrill," Vaughn said. Therefore communicators must be the voice of calm and reason.
3. Be willing to say the difficult things. And be contrarian when the time is appropriate.
4. Keep confidences. "We call our team 'the vault,'" Vaughn says. If information gets through communications before it can execute on it, the team's reputation suffers. And heads may roll.
For more on trends in employee relations, check out PR News' Employee Communications Guidebook, Vol. 4.
Follow Matthew Schwartz: @mpsjourno1