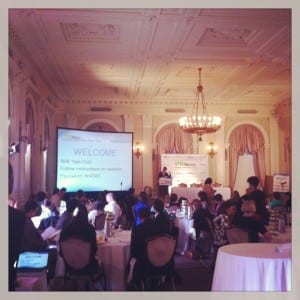 Real-world examples of content marketing took center stage at PR News' Content Marketing Boot Camp.
An opening session of the conference, which is taking place at The Yale Club in New York City, featured a discussion about some of the most effective content marketing strategies.
Ben Shields, director of social media and marketing at ESPN, focused on the tactics his company employed to raise awareness of its Tournament Challenge bracket game and drive increased year-over-year sign ups. The solution lay in engaging with a new audience beyond sports fans. ESPN found it in Robby Novack, better known by his nickname, "Kid President." Novack is a ten-year-old comedian who makes weekly YouTube videos with help from production house Soul Pancake.
ESPN collaborated with Novack and Soul Pancake to produce "Kid President NCAA Tournament Bracket 2013," in which Novack chose the outcomes of the games of the 2013 NCAA Men's Division I Basketball Tournament.
Based on Shields' experience with the Kid President video, here are the four elements of content marketing that PR pros should put to practice:
> Produce for social, extend for TV: The fact that Kid President was gaining momentum in the social media space gave the partnership credibility to be used on television.
> Parody involves a formula; stick to it: "We shot this video in the same type of space that Barack Obama does his picks," Shields said, "So we wanted it to feel as close to the video as possible."
> Leverage a popular personality or character with a built-in audience: Kid President was a natural choice, because he already had a following.
> If you build it, they may not come. Distribution plans are a must: "Content is not effective if you don't have a distribution plan," Shields said. ESPN seeded its Kid President videos on all of its social channels, as well as Soul Pancake's. The result? The video reached multiple audiences and demographics.
Follow Lucia Davis: @LKCDavis