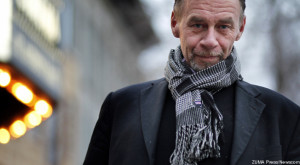 Journalism has seen better weeks. Brian Williams was suspended as host of "NBC Nightly News" for lying about his experiences in the 2003 war in Iraq, CBS News correspondent Bob Simon was killed in a car crash in New York and New York Times media columnist David Carr collapsed and died in the Times newsroom last night, on Feb. 12.
For anyone who follows trends in digital media professionally—journalists, PR pros and marketers alike—the death of David Carr is a huge loss. If you needed to stay current on a daily basis, you might check TechCrunch, Mashable and PandoDaily, but for many on both sides of the media equation it was David Carr you turned to for context, hands-on reporting, great writing, personality and first-rate journalism. Many tech writers—and writers in general, on the journalism and corporate communications sides—either assume too much inside knowledge on the part of readers, or don't really understand what they're writing about and hide their shallow comprehension beneath a tumble of jargon and copy-and-paste shortcuts. David Carr was the reporter you read to really learn what a new technology product did, how to use it and whether or not it might matter. He was living proof that writing doesn't have to be considered a commodity without monetary value.
In honor of him, we offer a few choice Times articles to remember him by.
"Press Function," Jan. 13, 2008. Carr was the Times' first Carpetbagger, covering the Hollywood awards season with impatience and a total lack of awe. He was irresistible when covering this beat.
"Selfies on a Stick, and the Social-Content Challenge for the Media," Jan. 4, 2015. Carr might have not been the first reporter to the party when covering narcissistic self-media, but nobody wrote about it better and more thoughtfully.
"Brian Williams, Retreading Memories From a Perch Too Public," Feb. 8, 2015: Carr takes the long view of Brian Williams' fall from grace, noting the difficulty of living up to the expectations the public has of network news anchors.
Follow Steve Goldstein on Twitter: @SGoldsteinAI