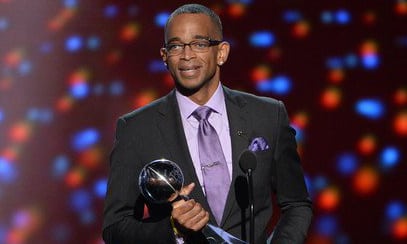 Stuart Scott was—as one of his oft-used catchphrases would describe—as "cool as the other side of the pillow." News of the end of his battle with cancer, which he courageously described at last year's ESPYs, prompted messages of sympathy from President Obama, Michael Jordan and just about everyone else near a microphone, camera or keyboard on Sunday.
Scott's influence was felt well beyond the world of sports. He was a beloved figure in American culture. What made him such a great, unique communicator? Let's take a look at some of Scott's best attributes.
A flair for language: Stuart Scott introduced many memorable phrases into the cultural lexicon. His offbeat and often humorous descriptions and references connected with people, and his enthusiasm for playing with language was plainly evident in his broadcasts, which many have attempted to emulate.
Standing out: During Scott's heyday at ESPN, the sports network had no shortage of big personalities—particularly Chris Berman and Keith Olbermann, who remain household names today. But Stuart Scott was different. He spoke hip-hop—think: "Holla at a playa when you see him in the street."—but also wore a suit. Through his creative descriptions, he defined a smart, street-influenced style which resonated with millions of people.
Versatility: Stuart Scott's sports broadcasts touched nearly every sport. He was a man who could make tennis highlights as exciting as Super Bowl highlights. But he didn't just dwell in the TV sports scene. He conducted sit-down interviews with Barack Obama and Bill Clinton, hosted a game-show and wrote for ESPN The Magazine.
Overcoming adversity: Stuart Scott's 2014 ESPYs speech will go down in history as one of the all-time great messages of hope in the face of great advsrsity. After privately battling cancer since he was first diagnosed in 2007, Scott opened up about his struggle when it returned in 2013, talking about his experience with chemotherapy, his workouts and his will to fight to stay alive for his daughters. His example will serve as an inspiration for others fighting the disease.
Follow Brian Greene on Twitter: @bw_greene