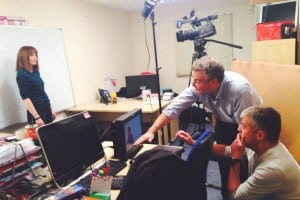 It's one area of communications that requires a delicate touch by PR pros: sitting down with  C-level executives for some hands-on media training.
You know the drill. You cultivate a decent relationship with the senior manager's executive assistant.
That gets you a few minutes with the manager, where you mention how important it is that he or she make some time for media training even though there are no media interviews scheduled.
The manager nods empathetically, says he understands the situation, but will not be able to commit anytime soon because of more pressing issues.
You know what happens next. A story breaks and the company is suddenly in the news.
It's a vicious cycle, with communicators often caught in the middle.
With that in mind, here are three media training tips, compliments of Chuck Tanowitz, VP of public relations and editorial services at HB Agency.
> Reverse the way the executive would be inclined to answer questions. Many C-level execs like to build up their answers and then present a conclusion. But, by that time, the reporter's eyes may have glazed over. Start with the conclusion and then back into the supporting material.
> Reporters are not out "to get" C-level execs. PR execs need to persuade senior managers that it's okay to come back to comments they may have made early in the interview but don't feel have been fleshed out enough.
> Learn from every interaction with the media. Chatting with reporters offers senior execs the opportunity to refine their overall message.
Learn more about media training in PR News' Media Relations Guidebook, Vol. 1.
Follow Matthew Schwartz on Twitter: @mpsjourno1