If you're anywhere near a TV, computer or newspaper today, you probably know that the United States beat Ghana in its first game of the 2014 FIFA World Cup in Brazil last night in pretty thrilling fashion. A late goal to break a tie game sent the country into revelry and social media managers to their computers to share their congratulations to the U.S. team.
Delta went with the following Tweet: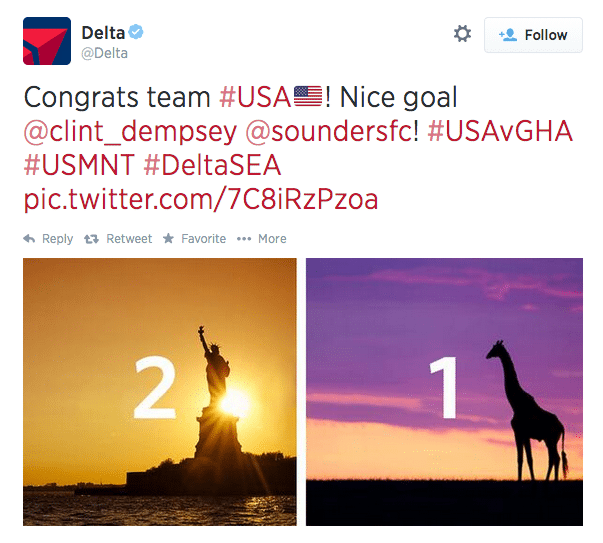 At first, this may seem like a patriotic celebration of an exciting national event. How can you go wrong with a Statue of Liberty sunset? But minutes after Delta sent the tweet out, negative feedback began rolling in.
Here are 3 things that went wrong with Delta's congratulatory tweet:
Delta was too quick. In an effort to be relevant and get their message of congratulations out to the U.S. national team and its fans, Delta tweeted at 8:08 p.m., a little over 10 minutes after the game ended. If they hadn't been so hasty, it might have come to their attention that...
There are no wild giraffes in Ghana. Giraffes, which are the world's tallest mammal and can reach speeds of up to 35 mph, are incredibly interesting and well-adapted creatures, but they are by no means pervasive on the African continent. According to the African Wildlife Foundation and the World Wildlife Foundation, there are no wild giraffes in Ghana. Still, even if giraffes were found all over Ghana...
Giraffes shouldn't be compared to statues. Delta's tweet was almost immediately called out as racist, and when you think about the comparison they made—an august, towering statue representing the United States with a comparatively diminutive animal representing Ghana—it's easy to see why.
Eventually, Delta apologized with another tweet, saying, "We're sorry for our choice of photo in our previous tweet. Best of luck to all teams." But the Internet never forgets.
Follow Brian Greene: @bwilliamgreene