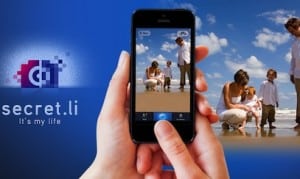 One of the biggest trends in social apps has been ephemeral massaging capabilities, or sending messages via social channels that are wiped out after a certain amount of time. This week Secret.li became the latest app to enter the iOS space.
Snapchat is arguably the most well-known, self-destructing messaging system, but it is still very much a consumer-to-consumer platform. Secret.li, on the other hand, is including brands into its user-base strategy. That is not to say other platforms are unwelcoming to brands. Unilever, for example, has been experimenting with Snapchat for some of its many brands, which include Axe, Ben & Jerry's and Dove. Still, Deepak Tewari, the founder of Secret.li, has indicated that targeting brands is a high priority for the emerging app.
"We can really see a huge benefit for brands and celebrities in using Secret.li," Tewari said, in a statement. For household names, musicians and footballers, Secret.li offers a new way to engage on a personal basis with their fans by offering a sneak peak of their latest album cover, photo shoot or one from their everyday lives."
If you are on the fence about ephemeral messaging apps for your brand, then here are three things you should know about Secret.li:
1. Secret.li messages have a fixed expiration of one hour, one day or one month. This is different from Snapchat and other platforms that typically allow viewing to last just a few seconds. This is good for brands that want to ensure their message is fully consumed.
2. Not only is viewing time different, but the countdown is different, too. Unlike Snapchat, which starts the clock when a recipient opens a message, Secret.li's clock starts ticking as soon as the message is sent. This is ideal for brands that want to engage in time-sensitive social media campaigns. A countdown to view an image or a message has real sense of urgency associated with it, and brands should look to create buzz around the expiration to leverage excitement.
3. Unlike other platforms, rich media can be uploaded into Secret.li, thus allowing brands to effectively craft a tailored message. While the illusion of spontaneity can be advantageous, it is much easier to stay on message with a well-planned appeal.
So, does Secret.li hold any appeal for your brand messaging?
Follow Caysey Welton: @CayseyW