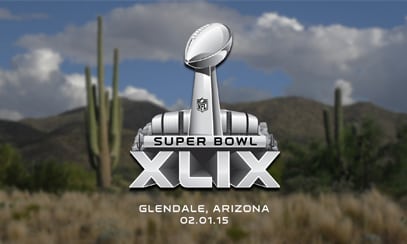 Football fan or not, if you're breathing on Sunday there will be no escaping the Super Bowl. This year's matchup between the New England Patriots and Seattle Seahawks promises to be one of the most widely watched events of the year, and no event of that magnitude goes unnoticed by PR and branding professionals.
Brand communications around the Super Bowl used to take one form—commercials. With airtime running $4.5 million per 30-second slot for Sunday's game and so many other avenues—namely, social media—available to reach the football audience, brands have started to look off-screen to capitalize on the big game.
Let's take a look at three ways brands and organizations are engaging the Super Bowl audience without shelling out millions of dollars to NBC.
Experiential marketing: This week, a Pepsi logo crop circle roughly half the size of a football field appeared in a field just outside the University of Phoenix Stadium, where Super Bowl XLIX will take place. Pepsi is sponsoring the halftime show, but the crop circle is what's getting attention. The stunt was part of a months-long marketing blitz during the lead-up to the halftime show, which featured more than 40 promotional events all over the country.
Verizon, a major NFL sponsor that isn't taking out a TV ad on Super Bowl Sunday, also found a creative way to capitalize on the game. Teaming up with Twitter, Verizon created the hashtag #WhosGonnaWin to find out which team Twitter users support more. In the days before the game, Verizon is conducting a series of light shows in Phoenix featuring the colors of the team that generates the most tweets that include the hashtag.
The second screen: This year, both Facebook and Twitter are both launching Super Bowl-dedicated channels on their networks. Facebook is encouraging fans to visit facebook.com/superbowl for a one-stop, real-time feed of everything related to the game. The feed will include posts from friends and groups and a live feed of the score and current play time. Most important for brands, it will also include photos and videos from news outlets as well as other public voices.
Likewise, Twitter, which debuted its dedicated channel capabilities during the 2014 World Cup coverage, has created a Super Bowl-dedicated stream called #SB49. The stream will include Super Bowl-related tweets from players, teams, media members, celebrities, fans and, yes, brands, plus the live score.
Real-time marketing: Everyone who deals with social media remembers the Oreo Super Bowl tweet from 2013. Twitter is directly helping 13 different companies staff "war rooms" to monitor social during the game and post relevant and specific videos, tweets and graphics, according to Reuters. Some companies will even have lawyers on hand to approve the posts.
Of course, those 13 companies aren't the only ones getting into the real-time marketing game on Sunday.
Follow Brian Greene on Twitter: @bw_greene