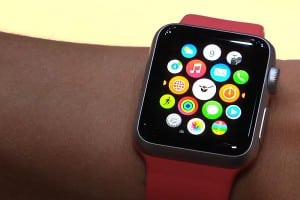 Time will tell whether the Apple Watch is a communications game-changer.
Amidst the usual hoopla accompanying the debut of a new Apple product, CEO Tim Cook introduced the Apple Watch Monday at a media event in San Francisco.
The Apple Watch is the gadget maker's biggest product release since the iPhone, which, of course, sells like hot cakes and continues to have a tremendous impact on communications (digital and otherwise).
The watch, which rolls out next month, will be able to send and receive calls and messages and sketch or tap messages. It will also have voice control, email and the ability to track physical activity.
Cook displayed several varieties of the Apple Watch.
Apple Watch is available in three collections: Apple Watch Sport, priced at $349 and $399; Apple Watch, available from $549 to $1,099 and Apple Watch Edition, made from custom rose or yellow 18-karat gold alloys, with prices starting at $10,000.
"This is a revolutionary new way of connecting with people," Cook said, adding that the Apple Watch "is the most advanced timepiece ever created."
Wearing the Apple Watch, you can pay for Apple products, connect with your social channels and keep track of your favorite websites, among other things.
Not to get too bogged down in the digital details—the battery will last up to 18 hours—the release of the Apple Watch provides three takeaways for PR pros:
> Never stop redefining your brand. By pulling out all the stops for its Apple Watch (and regularly upgrading its iPhone), Apple is redefining its brand and moving away from the "computer" verbiage that traditionally defined the company. Does your brand or organization use messaging or iconography that, in the minds of consumers, has a dated quality?
> One size does not fit all. The Apple Watch collection comes in several varieties, colors and watchbands. In an era of growing personalization, PR pros have to help their companies to diversity their products and services (and messages) to appeal to a wider swath of consumers. Sticking to the knitting can be costly.
> Go beyond your brand proposition toward purposeful marketing. During the rollout, Cook touted how the Apple Watch can help to track physical activity and your health (such as your heart rate). This is in keeping with the accelerating trend of "purposeful marketing." It's no longer enough to provide sterling products and services. You have to build on what you're selling to make consumers' lives easier, more convenient and healthier, however that may manifest itself. If not, consumers will look to competitors that do.
Follow Matthew Schwartz on Twitter: @mpsjourno1