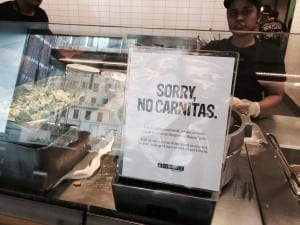 In the competition for the fast-food dollar, Chipotle has eaten McDonald's lunch. In the third quarter of 2014, Chipotle's revenue increased 28.2 percent in a year-over-year comparison, while McDonald's reported a 5 percent revenue decrease in that same period. This trend does not reflect just a preference for burritos over burgers—it also represents a PR win for Chipotle's "Food With Integrity" strategy.
Chipotle insistently hammers its message of "commitment to finding the very best ingredients raised with respect for the animals, the environment and farmers." So when the company discovered recently after a "routine audit" that one of its pork suppliers failed to meet its standards for animal welfare, if faced a choice: either quietly fix the problem behind the scenes and continue serving carnitas in its restaurants, or take the news public. The company chose the latter strategy.
The New York Times reported on Jan. 15 that Chipotle is taking carnitas—which is made from braised or simmered pork shoulder—off its menu in 600 of its restaurants. Chipotle has posted signs at the restaurants that have pulled carnitas from the menu, saying, "Sorry, no carnitas. Due to supply constraints, we are currently unable to serve our Responsibly Raised pork. Trust us, we're just as disappointed as you, and as soon as we get it back we'll let the world know."
Chipotle gets its pork from several suppliers and declined to name the supplier that it suspended. Chipotle will be working with that supplier "to bring its operations into compliance with Chipotle's requirements," according to the Times.
While it may lose sales from carnitas devotees, overall this is another PR win for Chipotle. Here are three things Chipotle got right:
1. The "Food With Integrity" message steered business decisions. Everything that Chipotle said and did after the audit hewed to this message, instead of letting the lust for short-term profits guide actions.
2. No finger-pointing. Chipotle declined to name the supplier it suspended, putting the onus on itself and emphasizing solutions instead of assigning blame.
3. Bad news became a positive story. No company seeks out a supply-chain problem, but Chipotle managed to turn this into a case study of transparency in action.
Follow Steve Goldstein: @SGoldsteinAI