Whether it's in the middle of a social media meltdown or the end of a disappointing meeting with the CEO, have you ever wished someone would swoop in and make it all better? Comic-Con 2013 kicks off today, and all of the fantastic photos of costumed attendees made us wonder what otherworldly protagonists communicators need the most. Here's what we came up with.
1. The Extinguisher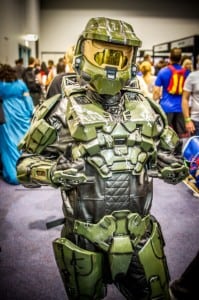 Image: Scopecube
Did a disgruntled employee just hijack your corporate Twitter and tweet out a string of expletives about your brand? Did your company's president utter something unbelievably offensive on a morning talk show? The Extinguisher is here to help. Not only does this guy stomp out the initial flames of a social media firestorm, but he possesses a sixth sense that arms him with the ability to have all the repair and rescue materials immediately on hand.
2. The C-Suite Soothsayer
Image: Estrada Photography
A longstanding PR obstacle has been getting—and keeping—upper management's attention. Perhaps you need a realistic budget for your brilliant CSR program, or maybe it's that your CEO is in dire need of media training before his New York Times interview—whatever the case, the stakes are high and the odds are not in your favor. This is when The C-Suite Soothsayer steps out from an ephemeral bloom of purple mist to paint a picture of a future where PR doesn't have a seat at the table. Once senior managers have seen the light—and the scary results of ignoring your sage advice—you'll definitely get more than a few minutes of their time.
3. The Content Coagulator
Image: Buzzdixon
Part of your job as a communicator is to get information about your brand and its products in the media, but let's face it, for some this is a bigger challenge than for others. A biopharma company is going to have less thrilling news to report than a TV network or the White House. The Content Coagulator exists for those of us who struggle to produce fresh, compelling content about our company on a regular basis. He finds an angle for even the most niche content to draw journalists and consumers alike. Plus, he has a direct line to all the major players of your target media outlets.
What PR superheroes do you wish for in a time of need?
Follow Lucia Davis: @LKCDavis.