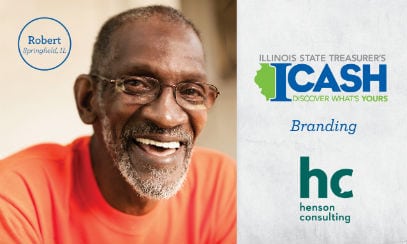 Winner: Henson Consulting
"Cash Dash," which was established to help Illinois residents reclaim money or assets, was losing its currency with the public.
The "Cash Dash" name and branding hadn't changed in nearly 15 years while the messaging didn't adequately explain the nature of the program. The logo and graphic illustrations, for example, brought to mind "cash or gold" programs of questionable integrity. What's more, the branding did not communicate that "Cash Dash" was a state-operated program, which left more room for suspicion.
So in early 2012 the Illinois State Treasurer Office's Unclaimed Property Division hired PR agency Henson Consulting for a major rebranding.
Job One was to give the program a new name: I-Cash, which played off existing services in Illinois, such as the I-PASS Tollway program, as well as the consumer nomenclature (iPad, iPhone). Henson also created a new tagline, "Discover What's Yours," to meet three goals: provide additional information about the program, convey the aspirational feeling that accompanies finding that you have cash waiting for you and lead a PR campaign.
Henson sent  a photographer and videographer to span the state and capture the stories of people who had participated in the program. The stories were then integrated into a media blitz including ads, marketing collateral, the Web and online video. Another major priority for the campaign: making the program's website a one-stop destination for claiming cash, featuring a concise, explanatory three-step search process and testimonial-driven content.
The rebranding provided solid returns for Illinois, with a 185% increase in visits to the unclaimed property website and a 383% increase in the number of property claims filed within the first three weeks following the launch of the PR campaign.
Honorable Mentions:
Alpaytac Marketing Communications/Public Relations
Matter Communications for Tyco Integrated Security