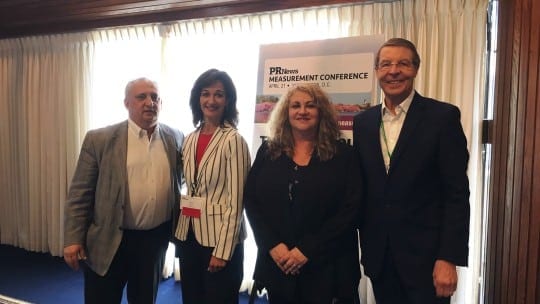 PR measurement, or the practice of using metrics to make the connection between communications activities and the organizational outcomes desired by the C-suite, can be perceived to be the bane of a PR pro's daily existence or the savior of the entire field of work. Senior leaders and clients are demanding ever-more proof that their investment in PR is worthy, while digital technology puts more quantifiable data in the hands of PR pros. More pressure, more data, more sleepless nights.
Behind the scenes, certain heroes have been meeting and debating about the standardization of PR measurement practices, and putting these practices to work and doing, yes, PR, for these practices. On April 21, 2016, at PR News' annual Measurement Conference at the National Press Club in Washington, D.C., we inducted a few of these heroes into PR News' Measurement Hall of Fame: Barry Leggetter, CEO of AMEC (International Association for the Measurement and Evaluation of Communication); Margot Sinclair Savell, SVP, global measurement, Research+Data Insights, Hill+Knowlton Strategies; and Eileen Sheil, executive director of communications for the Cleveland Clinic.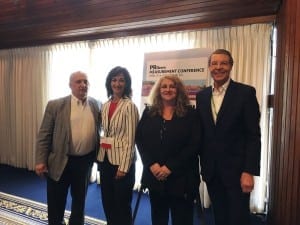 "These inductees have led in bringing about progress in the professionalization of public relations through better measurement and evaluation," says David B. Rockland, partner/CEO, Ketchum Global Research & Analytics, immediate past chairman, AMEC, and a member of the Measurement Hall of Fame, class of 2012. "Barry for his leadership in building a strong association for the profession; Eileen for making Cleveland Clinic not only a leader in health care policy and patient outcomes in the U.S., but also a leader in the practice of communications; and Margot for furthering the great reputation of H&K in the research and analytics space."
David and I had the privilege of inducting all three of them into PR News' Measurement Hall of Fame at the April 21 Measurement Conference in D.C.
Here is the complete list of PR News' Measurement Hall of Fame inductees:
2016 inductees:
Barry Leggetter
CEO
AMEC
Margot Sinclair Savell
Senior Vice President, Global Measurement
Research+Data Insights
Hill+Knowlton Strategies
Eileen Sheil
Executive Director of Communications
Cleveland Clinic
2015 inductees:
David Geddes, PhD
Principal
Geddes Analytics
Marianne Eisenmann
Head of Research and Analytics
inVentiv Health Public Relations Group
Allyson Hugley
President, Measurement, Analytics and Insights
Weber Shandwick
Johna Burke
EVP
Burrelles Luce
2014 inductees:
Don Bartholomew
formerly Senior Vice President, Digital and Social Media Research
Ketchum
Shannon Bowen
Assistant Professor, Public Relations
University of South Carolina
Andrew Bowins
Vice President, Corporate Reputation
Samsung
Pauline Draper-Watts
Executive Vice President, Global Lead, Measurement and Analytics
Edelman Berland
Angela Jeffrey
Vice President, Brand Management
ABX Advertising Benchmark Index
Andre Manning
Senior Consultant
Base Consulting
2013 inductees:
James Fetig
Chief, External Relations (retired)
Corporation for National and Community Service
Diane Lennox
PR Services Manager
SAS
David Michaelson
Managing Director, Head of Research & Analytics
Teneo Strategy
Katie Paine
Senior Measurement Consultant
Paine Publishing
Mark Weiner
CEO
PRIME Research
Donald K. Wright
Harold Burson Professor and Chair in Public Relations
Boston University's College of Communication
2012 inductees:
Linda Childers Hon, PhD
Executive Associate Dean, College of Journalism and Communications; Professor, Department of Public Relations
University of Florida
Jackie Matthews
Communications Research
General Motors
David Rockland
Partner/CEO, Ketchum Global Research & Analytics
Immediate Past Chairman, AMEC
Linda Rutherford
VP, Communication and Strategic Outreach
Southwest Airlines
Don W. Stacks, PhD
Professor of Public Relations
Director, Public Relations Graduate Studies
School of Communication
University of Miami
Louis C. Williams, Jr.
Chairman
The Lou Williams Companies, Inc.
2011 inductees:
Frank Ovaitt
President and CEO
Institute for Public Relations
Tim Marklein
Founder & CEO
Big Valley Marketing
Donna Coletti
Director, International Communications & Market Research
Texas Instruments
Kathy Collins
Owner
pr metriKa
Dr. James Grunig
Professor Emeritus
University of Maryland