Winner: YTM - Nestlé Hot Pockets "Pocket Like It's Hot"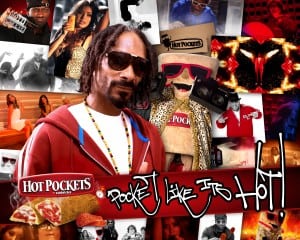 In Q3 of 2012, the Hot Pockets team at Nestle was looking to reposition the brand and move beyond previous messaging, which focused on portability and convenience. Instead, they wanted to place an emphasis on taste and quality.
The goal was to create a viral YouTube campaign that would enable the brand team to target its desired demographic of males between the ages of 18 and 34, while providing a platform to display Hot Pockets sandwiches in a highly creative and engaging way to a large number of viewers.
The resulting video featured a remix of Snoop Dogg's 2004 rap song "Drop It Like It's Hot," leveraging the celebrity of Snoop Dogg and the continuing popularity of his hit single, while allowing Hot Pockets to be prominently featured. Even more star power was added, including celebrities such as actor Andy Milonakis, YouTube sensation/rapper DeStorm Power and WWE wrestler Brodus Clay.
With the help of its media strategy team, Zenith, the Hot Pockets team enlisted YTM to launch their video through YouTube to an expansive network of premium content publishers throughout the Web, allowing the video to be exposed to a vast audience of quality, relevant viewers.
"Pocket Like It's Hot" launched on YouTube on Oct. 10, 2012, and as a result of leveraging YTM's video syndication process, the Hot Pockets video reached trending charts multiple times in several different categories on YouTube's dashboard.
At the end of the campaign the video garnered 6.7 million views and a video completion rate of 46%, and earned media pickup by outlets like the Huffington Post, AdAge, Forbes, The New York Times and NPR. —Bill Miltenberg
Honorable Mentions:
American Traffic Solutions - Utilizing Social Media to Compel Drivers to Stop on Red
Hilton Worldwide - Hilton Worldwide Celebrates Inaugural Global Week of Service
Weber Shandwick – Degree Men: Masters of Movement