Winner: National Geographic Channel - Chasing UFOs, The Wow! Reply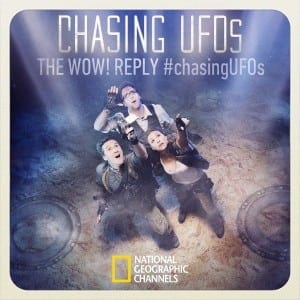 In 1977 SETI (Search for Extra Terrestrial Intelligence) picked up an unexplained 72-second signal from space. It became known as the "Wow! Signal." It grew to become a pop culture icon, part of a select group of references that symbolize mankind's eternal fascination with UFOs and intelligence among the stars. National Geographic thought if the Wow! Signal really was a short message from an advanced civilization isn't it about time we sent a response? To promote a new TV show, "Chasing UFOs," The NGC team would capitalize on the natural curiosity of the unexplained phenomena, creating a program to crowdsource an @reply using Twitter and beam it back into outer space. Call it the cosmic tweet.
NGC launched the program with extensive influencer outreach, starting with a press release and online video using "Chasing UFO" talent to announce that on the night of the show's premiere, a global Twitter event will collect every tweet that uses the hashtag, #ChasingUFOs. Then, celebrities were invited to create their own 72-second Wow! Reply videos that helped gain excitement around the event. Fans could watch the celebrity videos on Natgeotv.com and schedule their tweets to be crowdsourced during the premiere. On June 29, the premiere date, the NGC team began gathering all tweets received with the hashtag #Chasing UFOs. Then, on August 15, the anniversary of the Wow! Signal, the Arecibo Observatory in Puerto Rico sent the @replies into deep space. The transmission event was documented with a 10-minute video with Erin Ryder from "Chasing UFOs."
The program generated more than 33,000 tweets using #ChasingUFOs, which became number three on trending TV show "Trendrr.tv." In addition, hundreds of blogs and articles were written about the tweets sent into space, and the late night shows had a heyday. So far, no answer back. —Scott Van Camp
Honorable Mentions:
· Intersport - Where's The Blue Hat Taking You?
· The Stanislaus County Fair - Imagine the Fun
· Weber Shandwick – #AAGalaxy: American Airlines Socializes New In-Flight Entertainment Offering