Winner: Grand Ole Opry - #Love4Loretta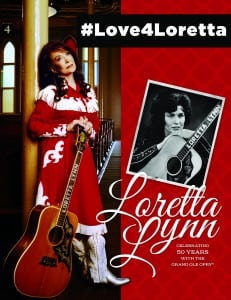 The Grand Ole Opry used Twitter to celebrate an old friend, iconic music legend Loretta Lynn. Lynn's 50th anniversary as an Opry member, set to be feted on Sept. 25, 2012, gave the Grand Ole Opry communications team the opportunity to grow its presence on Twitter while tapping other artists' love for Lynn and engaging Lynn's fan base to drive awareness and build buzz around the event.
Leading up to the event, the Opry interactive team of three canvassed tastemaker artists (plus artist management and publicity firms) with invitations to celebrate Lynn's landmark Opry anniversary by tweeting a message sharing what they love about Lynn and including the hashtag #Love4Loretta. Fans and followers were asked to do the same, and at the same time were engaged with questions about Lynn and opportunities to win prizes. The hashtag was incorporated into press opportunities, including pre-event country music media coverage, 650 WSM radio programming and show night coverage to grow the Opry's presence on Twitter.
With artists such as Miranda Lambert, Carrie Underwood, Reba McEntire, Luke Bryan, Martina McBride, Rascal Flatts and Bret Michaels (among others) participating with their own tweets, it's no wonder the Opry sold out the 4,400 seat venue while reaching 3.9 million Twitter users (8 million impressions) and garnering 1,000 new Opry Twitter followers and 1,629 new followers for Loretta Lynn. —Scott Van Camp
Honorable Mentions:
· Guthy-Renker - #ProactivWorks
· Neiman - #Tweettoshoot
· SAP - #SAPChat