Winner: Huge - Clever Content Makes Huge a Twitter Thought Leader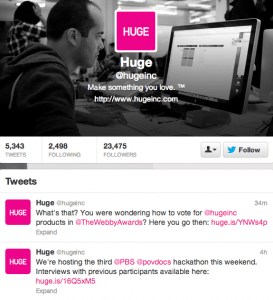 As a digital agency that handles social media strategy and content for clients, it's important that Huge demonstrate the same expertise through its own social channels, including Twitter (@hugeinc). Nobody wants to follow an agency Twitter account that just promotes the company's news or shares the same industry articles everyone has already read. Thus, the goal for the Huge Twitter account was to add value for followers by both informing and entertaining them, while establishing the agency as a thought leader in the digital space.
Crafting its Twitter strategy in 2011, Huge's communications and copy teams came up with an overarching voice of the agency: clever, creative, ahead of the times and never too serious, demonstrating that Huge is "not your average company." The goal was to infuse this voice into each tweet, making people both laugh and think, and want to share its content with others.
Tactics used included: Investing time each day to find links to share and developing copy; sharing interesting articles related to the digital industry, and providing a unique spin with accompanying clever copy; posting amusing photos from the Huge offices; posting information about upcoming events featuring Huge or a Huge employee; retweeting select Huge employees' personal accounts; and following and retweeting industry influencers.
The proof is in the social pudding: Launched at the end of 2011, followers jumped from approximately 12,000 in December 2011 to over 20,000 in December 2012, with 2,849 retweets by followers and 3,000 tweets favorited. —Scott Van Camp
Honorable Mentions:
· AEG Sports - 2012 Stanley Cup Playoffs
· Taco Bell - @TacoBell Brand Voice