Co-Winner: EPIX - EPIX Looks Great on Pinterest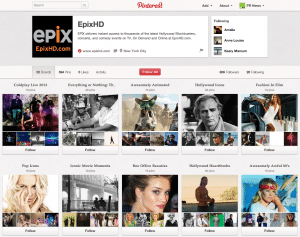 The objective of the movie channel EPIX's Pinterest page is twofold: drive people to its library titles and original content that is available on EpixHD.com, and serve as a forum in which it shows people what's to come through boards dedicated to new releases that will be on EPIX in the future. Not just focused on likes, repins and comments, the primary goal is to direct people back to EpixHD.com by sparking their interest with boards and individual pins.
To fulfill this goal, EPIX examines its movie library to determine how to share and organize its 30,000 stills on its website in a way that will drive the most traffic back to EpixHD.com. Through this process, the team looks for "EPIX gems" that people can't find anywhere else. For example, the Hollywood Heartthrobs board represents an array of familiar (and attractive) faces to choose from while directing users to broad selection of movies spanning across genres and eras of film. This serves the function of offering people a new way to enjoy their favorite actors.
In addition to targeting something as specific as a type of actor, Pinterest allows EPIX to connect genres and movie titles through shared themes, such as fashion, cars, character archetypes, holidays, etc. Specific examples are Fashion in Film, Iconic Movie Moments and Box Office Beauties, creating an eye-catching board of striking images surrounding a common idea has proven to be a successful tactic in guiding people back to EpixHD.com.
Through the above initiatives and more, EPIX has driven 2,500-plus clicks back to the site, either to specific movie pages or the homepage. —Scott Van Camp
Co-Winner: Elizabeth Arden - Revolutionizing Social Good: #PinItToGiveIt with Elizabeth Arden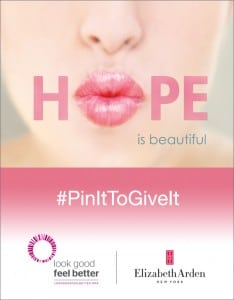 The main objective for Elizabeth Arden's Pin It To Give It (PITGI) Pinterest campaign was to develop an innovative social good program that provided a creative user-experience. The initiative focused on bringing cancer awareness to the forefront and inspiring people to join the cause and support women in the fight against cancer. The mission was to empower women with cancer by providing them with product to look good and feel better.
Pinterest proved to be the ideal platform for implementing this campaign, thanks to its easy ability for people to participate with just one click of a button. For every image repinned to the PITGI board using the hashtag #PinItToGive, Elizabeth Arden would donate one eyeliner (up to 10,000 total products) to charitable partner Look Good Feel Better, a public service program that is dedicated to improving the self-esteem and quality of life of people undergoing treatment for cancer.
Leveraging Pinterest as a driver of a fully integrated marketing program, the Elizabeth Arden team built a number of outreach components into the campaign, including social media, PR/media relations, internal communications, event integration, influencer outreach, website and e-marketing. Featured in influential publications like Mashable, Huffington Post and Digiday, the PITGI Pinterest campaign, executed from June to October 2012, resulted in 7,000 total repins, 350,000 Pinterest impressions and 1,983 Pinterest followers. Most important, the campaign helped transform social good to help women in the fight against cancer while generating millions of media and social media impressions, driving significant awareness around the campaign and its cause. —Scott Van Camp
Honorable Mentions:
· Constant Contact - Pinning the Way to Small Business Success
· HauteLook - HauteLook Takes Pinterest in 2012
· Homes.com - "Pin it if You Love it" Contest