Winner: National Geographic Channel - The Untamed Americas Photo Contest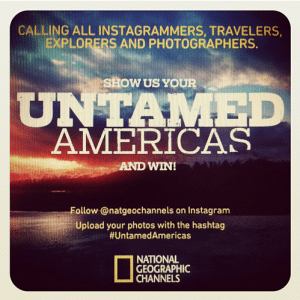 National Geographic Channel's "Untamed Americas" explored the stunning landscapes and wildlife in the continents' mountains, deserts, coasts and forests. Focused on the Americas, the high-definition mini-series promised viewers a look at "your backyard as you've never seen it before." Knowing the appetite for incredible photography within Instagram, National Geographic honed in on engaging users to create content that could be easily shared with its target audience.
Through the development and launch of an Instagram contest, National Geographic invited fellow travelers, explorers and photographers to showcase the beauty in their own backyards. Tactics included posting key wildlife photos from "Untamed Americas" to Instagram while inviting users to post images of the "Untamed Americas" in their own backyards (hashtag #UntamedAmericas). Select photos were chosen each week and featured on the Nat Geo TV blog as well as its Facebook page to build excitement and participation. Outreach was conducted to Instagram fans sites as well as photography blogs and websites to spread the word outside of the platform.
Prizing was selected that would appeal to the Instagram audience (Untamed Americas photography prize pack, including a National Geographic camera bag filled with a Nikon D3100 and lens as well as a subscription to National Geographic Magazine. Over 6,900 photos were submitted with the hashtag #UntamedAmericas in just over five weeks. Followers on Instagram increased by 55% from 10,781 to 16,817, avgerage likes/photo increased by 205% from 126.2 to 384.81 and average comments/photo increased by 239% percent from 3.5 to 11.88. —Steve Goldstein
Honorable Mentions:
· DoubleTree by Hilton - Pet Photo Sweepstakes
· HauteLook - Photo-A-Day Challenge