Co-Winner: Nikon 1 "Small Moments Are Huge" Program
To raise consumer awareness of the Nikon 1 system line of compact interchangeable lens cameras, MWW and Nikon's communications and marketing teams armed select influencers—called Guest Stars—with Nikon 1 J1 cameras to capture the everyday small moments that have a huge impact on their lives.
The resulting Nikon 1 "Small Moments are Huge" Gallery on Facebook leveraged the participation of Guest Stars such as Ashton Kutcher, Derek Hough and Hilary Duff, among others, and encouraged consumers to upload their own special moments to the page.
Since the launch of Small Moments June, the photo gallery has received more than 4,600 photo uploads. Traffic to the tab has been consistent since launch, which has had more than 583,800 total page views. MWW secured media coverage with a variety of technology, photo trade, consumer lifestyle and entertainment outlets including featured segments on E! News and Entertainment Tonight, and stories in InTouch Magazine, as well as popular entertainment blogs Pop Sugar and Babble.
This was one Facebook activity in which everyone who participated was a winner. On December 4, 2012 Nikon posted a special "Thank You Mosaic" featuring all of the photos uploaded to the Nikon 1 "Small Moments are Huge" community gallery. Users can browse all of the community images, search for their own pictures and continue to share some great moments with their friends. —Steve Goldstein
Co-Winner: Weber Shandwick - Frigidaire Time Machine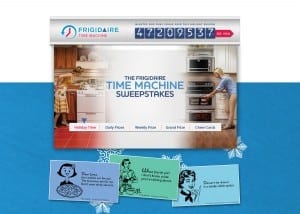 To reinforce the time-saving message of the Frigidaire appliances, the brand created The Frigidaire Time Machine app, which calculated how much time Frigidaire appliances could save American's on holiday tasks. The Time Machine app encouraged consumers to enter what tasks took up most of their time during the holiday season for a chance to win time-saving, big ticket items from Frigidaire.
Supporting PR tactics for the six-week campaign spanned all media types and through a variety of verticals with the goal of driving consumers to engage with the Time Machine App. This included a partnership with national daytime talk show, The View, to execute an on-air integration featuring Frigidaire and the Time Machine app on Nov. 16, 2012. This was paired with strategic media outreach, strategic partnerships, a targeted blog tour, a Twitter party discussing holiday time-saving tips and radio promotions.
The Time Machine App far exceeded targeted goals. Within a few weeks of launch, 107,000 sweeps entries had been submitted and the brand Facebook page gained over 58,000 new likes. The Twitter party received more than 2,400 tweets, and was the #2 trending topic in the U.S. and the #6 trending topic globally. —Steve Goldstein
Honorable Mentions:
· Ignite Social Media – Samsung Angry Birds Check-In Challenge
· Marco Island Marriott "Next Generation" Facebook Contest
· Mullen – Century 21 Real Estate Moves into SimCity Social
· Ryan Partnership – Dove Men+Care Fan Bowl Photo Contest
· Schneider National – Do You Have the Drive? Sweepstakes
· Spafax Canada – Air Canada's 75th Anniversary Facebook Game
· Motive - Van's Natural Foods: Breakfast Bedheads
· WellPoint – Social Summer Games