Co-Winner: Taco Bell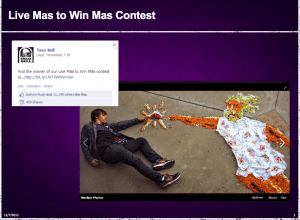 Taco Bell went back to its roots to find inspiration for a new tagline and engagement program. While the taco has yet to best the hamburger or slice of pizza as a food icon in the U.S., it's omnipresent, and has even leaped across cultural barriers to encompass Asian food. And one of the pioneers, or cultural explorers, who brought tacos to the masses in the U.S. was Glen Bell, who founded Taco Bell in 1962. This notion of exploration led to the launch of the "Live Mas" (Live More) campaign, which has focused on communicating the notion of exploration to the brand's followers on Facebook.
Taco Bell's social media team worked to create a brand voice that is reminiscent of an explorer, and one that would resonate with Facebook fans and inspire them to share their own stories of exploration. Taco Bell curated fan content and amplified stories that showed how they were "Living Mas" with Taco Bell.
Taco Bell called its fans to action with a "Live Mas to Win Mas" contest on Facebook, asking them to show how they Live Mas with the new Doritos Locos Tacos. Fans entered the contest via Taco Bell's Facebook page, and submitted photos of skydiving with a Doritos Locos Tacos, creating Doritos Locos Tacos art and other creative (and risky) enterprises. Taco Bell then amplified and spotlighted this content to show the genuine affinity that its Facebook fans have for the brand.
By listening to its Facebook community, Taco Bell learned that removing Fire-Roasted sauce packets from its restaurants upset a number of loyal fans. Taco Bell leveraged these conversations and sent to these heartbroken fans its remaining supply of Fire-Roasted sauce in order to honor their passion.
Taco Bell's Facebook fan count increased by nearly 25% after the launch of Live Mas, and it now has an army of 10 million fans. Engagement for Taco Bell's content also increased. In 2011, Taco Bell received an average of 3,000 to 5,000 thousand likes per post. Now, Taco Bell receives an average of 10,000 to 20,000 thousand likes. —Steve Goldstein
Co-Winner: U.S. Department of Veterans Affairs - Make the Connection
With its Make the Connection program, the U.S. Department of Veterans Affairs turned to Facebook to bring veterans and their loved ones information, resources and support for challenges directly affecting their lives. The campaign's goals: to foster informed conversations surrounding veteran mental health, influence veterans and supporters to take action and promote help-seeking behavior and integrate social media with MakeTheConnection.net to introduce new visitors to the website and increase the reach and sharing of rich media content.
The Make the Connection social media team posts new content to the Facebook page a minimum of four times per week, with veteran story arcs, open-ended questions and other rich media that looks to build engaged fans and spur conversations over time. Each month, a posting calendar is created to ensure a breadth of content exists that speaks to varied user interest as well as all branches, eras and gender. The page is monitored 24 hours a day, seven days a week. Any comments that indicate a threat of suicide—not uncommon on pages relating to mental health—are immediately referred to the U.S. Department of Veterans Affairs Veterans Crisis Line for follow-up.
The page is the fastest-growing Facebook page in the military or government spheres to date. Within the first six weeks of launch, the page saw fan growth in excess of 540,000. Within four months, it attracted more than 1 million fans and now has 1.5 million. Fans are not only numerous, they are also highly engaged. On a weekly basis, 10% of fans comment, share, or like page content. —Steve Goldstein
Honorable Mentions:
· Edelman Japan - The AXE Wingmen
· Medtronic MiniMed - The Medtronic Diabetes Community: Engaged, Inspired and the #1 Diabetes Brand on Facebook
· Native Eyewear - The Locals Only Project
· New Media Strategies - The Wine Bar Facebook Community
· Quaker Steak & Lube - Be the Mayor of Lube Nation
· USO - Patriotic Pets
· Weber Shandwick - Frigidaire Time Machine
· XO Group - Helping Brides In the Wake of Hurricane Sandy