Winner: PHD - Abreva Conceal Launch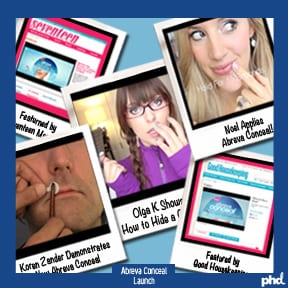 Abreva discovered that for sufferers of cold sores, one of the most difficult symptoms to deal with was not the actual cold sore, but the embarrassment related to a breakout. To relieve sufferers, Abreva developed Abreva Conceal, designed to cover a cold sore while it heals, rendering it nearly invisible. The challenge was that using the product wasn't as simple as putting on a Band-Aid. It requires the user to put on makeup over the patch, leading to a lot of potential trial and error.
The team brought in the beauty community to help launch the product, centered on where beauty experts have really built a following: YouTube. To maintain a sense of authenticity and to allow beauty experts to experiment with the product, they encouraged select vlogger influecers to try the product and enhance their own beauty expert credentials by demonstrating the product with their own personal tips and tricks. At the same time, this strategy allowed Abreva to develop a large library of demo videos featuring women of all ages and types successfully applying Abreva Conceal.
The Abreva Conceal campaign launched on October 3, 2012, with a blogger summit hosted by celebrity makeup artist Carmindy, as well as the revamped YouTube Channel. The vlogger influencer videos, a total of 10, were released on a staggered schedule over three months to keep things fresh as well as to maintain interest. Each video was created by the vlogger independently, and included personally developed tips & tricks. Vloggers, especially those who were cold sore sufferers or knew friends who were sufferers, were especially pleased with the product. Promoted Tweets captured interest from cold sore sufferers and also drove to the various YouTube videos.
Nearly half a million views of all videos helped lead a 7% lift in total followers on Twitter during the campaign period, and Abreva Conceal has surpassed all GSK metrics for sales and distribution. —Bill Miltenberg
Honorable Mentions:
CarMD.com Corp. - CarMD Motion Commotion Campaign
Elsevier - Elsevier's Screening Room
Guthy-Renker - Proactiv Celebrity Swag Subscriber Contest