Winner: APCO Worldwide – Shot@Life Campaign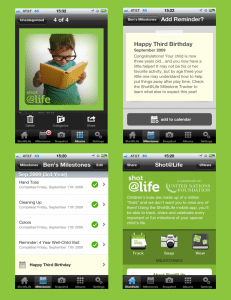 As part of the United Nations' Shot@Life Campaign to decrease vaccine-preventable childhood deaths worldwide and give children "a shot" at a healthy life, partner APCO Worldwide designed and developed native iOS and Android mobile applications that celebrate childhood milestones and allow parents to connect to the campaign. Designed to build awareness about Shot@Life, the free Shot@Life mobile app helps parents tell the story of their child's first steps—of all kinds—by capturing photos and chronicling moments with a milestone tracker.
The app has been part of APCO's five-year communications strategy for the campaign, and includes securing nonprofit partners to promote the campaign to key stakeholder groups, partnering with the private sector as a way to broaden awareness for the campaign and its goals and securing top-tier media coverage targeted at American moms.
In April 2012, Shot@Life's national launch at the Georgia Aquarium in Atlanta (which featured photographer Anne Geddes, former Ambassador Andrew Young and former First Lady Rosalynn Carter, among others) culminated in a nationwide celebration of childhood around the world. Shot@Life champions hosted more than 90 grassroots events across the U.S., and in Atlanta, the Shot@Life team joined more than 400 mothers and their children, health leaders and VIPs to celebrate this campaign milestone. Launch-related media coverage included The New York Times and Real Simple. —Steve Goldstein
Honorable Mentions:
Accenture - Outlook journal iPad App

Booz Allen Hamilton - Booz Allen Insights

EPIX

Pure Michigan - See and Share the Beauty of Pure

Michigan on Facebook